By Post Bus through Graubünden.
Bus Tours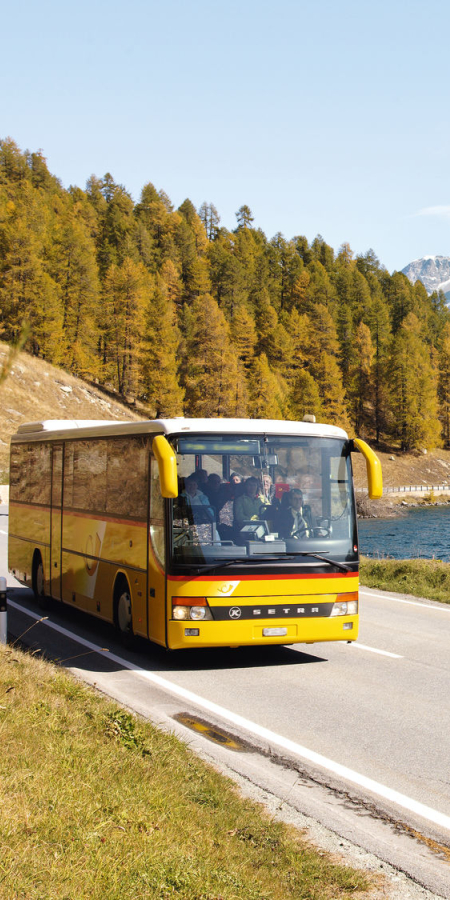 The yellow Post buses, which connect the remote valleys and tiny villages, are perfectly suited to Graubünden. They run regularly, punctually, reliably and yet with that frisson of adventure that separates holidays from the everyday.
St. Moritz–Menaggio–Lugano.
Palm Express 
The Palm Express runs through the Bergell with its famous climbing mountains from the highland air and the cosmopolitan resort of St. Moritz in the Engadine to Italy. Then it runs past Lake Como and Lake Lugano back to Lugano in Switzerland.
Zernez–Müstair–Mals/Malles.
Engadine-Merano Route 
The journey leads from Zernez in the Lower Engadine through Switzerland's only National Park and the picturesque Münster Valley to Mals in the South Tyrol. You can then continue by train to the historical little town of Merano. This trip does not run in the winter months.
Chur–Julier–St. Moritz.
Julier Pass Route
Experience an exciting 2.5-hour Post Bus journey from Chur, up through Lenzerheide with its idyllic Heidsee. From here the journey leads over the sun terrace of Lenz down to Tiefencastel. Then up again via Savognin in the Oberhalbstein with small villages like Bivio, the gateway to the Julier Pass (2,284 m a.s.l.). In Silvaplana you reach the upper Engadine with its unique lake plateau and the exclusive resort of St. Moritz.