Ice Age in the Albula Valley.
Skateline Albula
The skateline created for skaters every winter in Surava is three kilometres long. The unique attraction is the result of coincidence.
The Skateline Albula will remain closed in winter 2021/22.
«A cross-country skier gave me the idea of building this ice track.»
Giorgio Bossi, creator of the skateline
This cross-country skier complained that the cross-country ski trail was icy and difficult to negotiate with skis. Former trail designer Giorgio Bossi took the message to heart. In 2001 he transformed the cross-country ski trail into a unique ice-skating track. This is all down to a lot of hard work and the favourable conditions in the Albula valley.
In November, the sun leaves Surava until January. At this time it is quite common for the average temperature to be below zero. When it comes to building the ice track, the colder the conditions the better, which is why Giorgio Bossi gets a warm feeling when the temperature drops below -10°C.
The ice track takes several weeks to build and stretches the club members to the limit. The retired members set to work during the day, while the other volunteers play their part in the dark after they get home from work.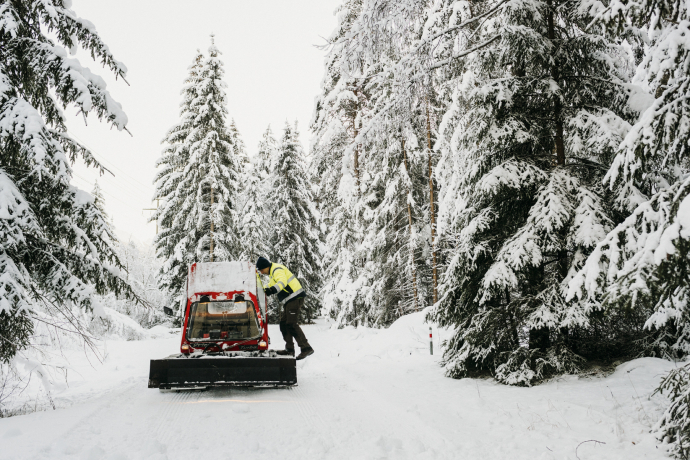 Show all 6 images
Cold Conditions Can Be Tricky
Temperatures around -15°C are probably good for the ice track, but pose a challenge for the ice makers. The water pipes are sometimes frozen under a covering of several centimetres of ice. These are then thawed out again using gas burners.
One-way Traffic on the Skateline
The club has its own local hostelry in Surava. Alongside a restaurant, the complex includes changing facilities and equipment hire. Once skaters are fully kitted out, a shuttle bus awaits to whisk them to the start in just seven minutes, What then follows are 30 minutes of pure ice-skating enjoyment in the holiday region of Val Surses Savognin Bivio.
Show all 3 images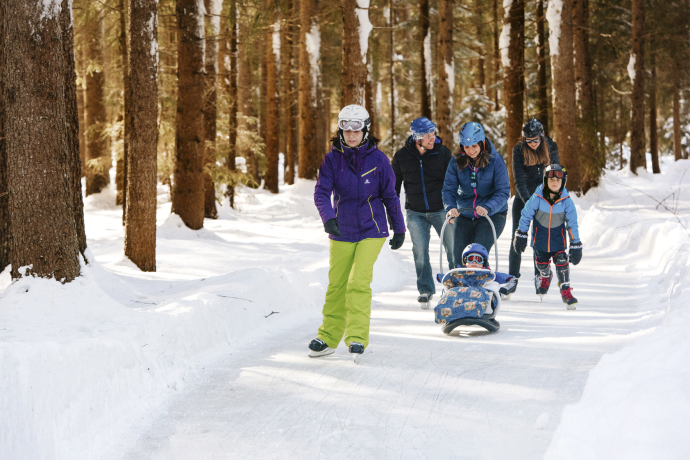 The Skateline Albula in Numbers
3 kilometres: It takes between 15 and 45 minutes to cover the skateline.
70 days: The season starts in mid-December and runs until March.
250 cubic metres: Spreading the surplus snow creates a solid layer of ice.
30,000 trips: Winter 2018/19 witnessed a record number of visitors.
Spectacular Night-time Scenes
During the high season the ice track is open daily from 9 a.m. to 9 p.m. (5:30 p.m. on Sundays). Ice skating at night is a very special experience indeed. You can hire all the necessary equipment – even head torches.