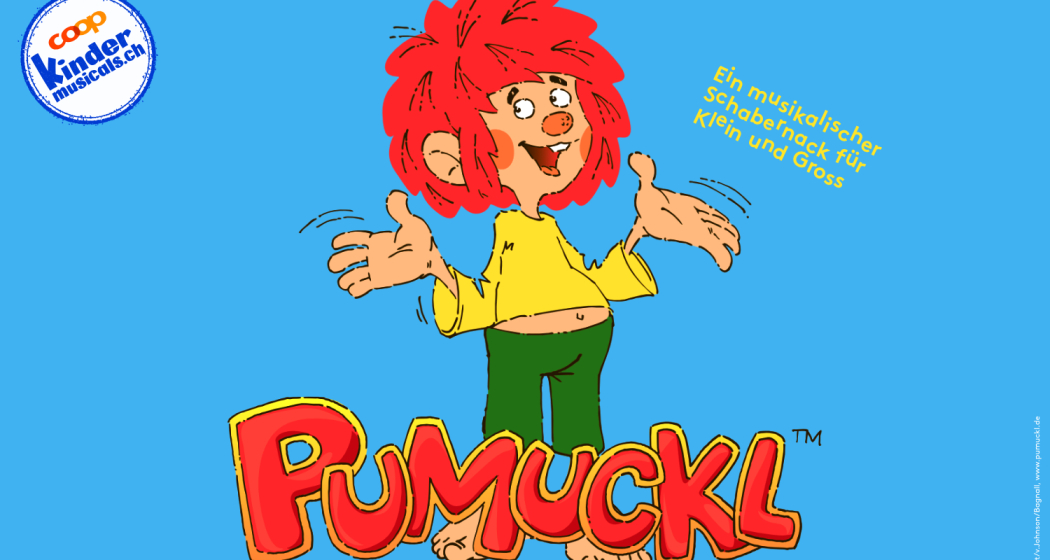 "Hooray, hooray, the Pumuckl is here!" - as a world premiere in a Swiss-German version. From October 2023, the red-haired leprechaun will go on a big tour throughout German-speaking Switzerland.
Description
Date
10.03.2024 from 14:00 to 15:10 o'clock
Price
Adults normal price CHF 37.00
Adults HelloFamily / Supercard CHF 29.00
Children normal price CHF 29.00
Children HelloFamily / Supercard CHF 23.00
Ort
Kirchgemeindehaus Titthof
Master Eder is immersed in work in his workshop when a mysterious captain's box is brought to him for repair. Without suspecting it, a small, scrubby and usually invisible guest moves in with the old chest: the Pumuckl.

Immediately, the cheeky Klabautermann feels at home in the carpenter's workshop, plays a lot of jokes and talks non-stop. And Master Eder just wanted his peace and quiet! Completely overwhelmed by the new situation, he asks his astonished sister for parenting tips, without mentioning the Pumuckl. Shortly thereafter, his niece watches him talking to the goblin, who is invisible to her. What's wrong with Master Eder?

And as if the chaos wasn't big enough, his friend Bernbacher also wants his captain's box back. But Pumuckl doesn't pull out the box. Now Master Eder has to come up with something very special. Will the two succeed in keeping the box and whether the master Eder will be declared crazy?

With upbeat songs, an amusing story and rousing actors, Matthias Keilich stages great fun for the whole family - based on the popular Pumuckl stories by Ellis Kaut.

Director: Matthias Keilich
Script: Matthias Keilich, based on the popular Pumuckl stories by Ellis Kaut.
Music: Rafael Haldenwang
Cast: Sue Bachmann, Dänu Brüggemann, Stefan Camenzind, Nina Havel, Ana Xandry
Language: Dialect
Duration: approx. 70 minutes (no intermission)
Age: recommended for children from approx. 5 years
Production and organizer: Balzer Event GmbH
Contact
Balzer Event GmbH
Schiltwiesenweg 2, 8404 Winterthur
Responsible for this content Balzer Event.
This content has been translated automatically.

This website uses content from Guidle.