Snowshoe trekking Stagias, 2 days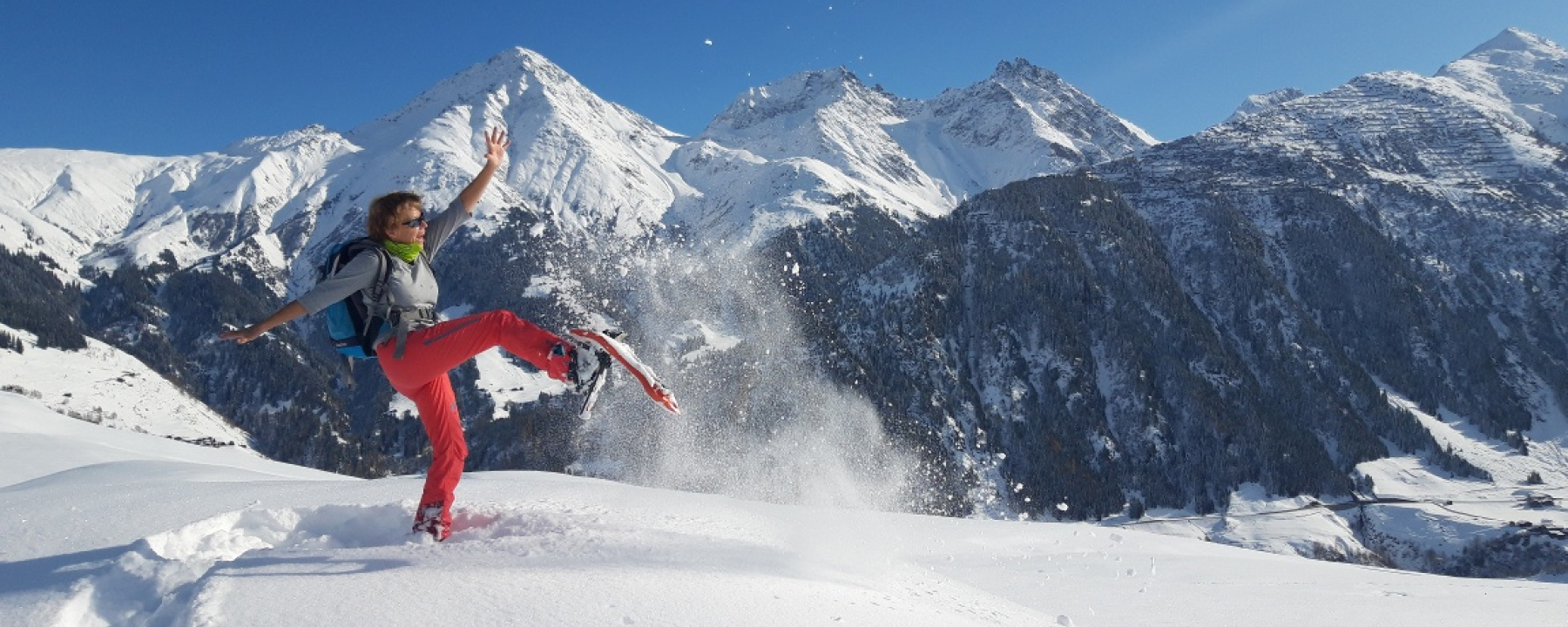 Show all 14 images
Fantastic snowshoeing experience over the ridge of Stagias (signaled)
---
Coordinates
46.681418, 8.769167
Description
day
: We start in Sedrun with packed snowshoes and hike to the year-round inhabited hamlet Cavorgia. On a signalled snowshoe trail, we now go uphill on a snow-covered road with a leisurely incline. As soon as we enter the forest we are in the wild rest zone and we can imagine, based on the many animal tracks in the snow, who is hibernating everything. In Stagias we get a glimpse of the neighbouring valley Val Medel with the village of Curaglia, which lies at the foot of a mighty mountain range. Continue along the path to the Alp Pazzola, the highest point of the tour. No tree or shrub blocks us from the deep view into the valley and the view of the mountain panorama. At the alpine huts you will always find a wind-protected place for an extensive rest. We walk back to Stagias on the same route, but then we are allowed to go to Mutschnengia over the open field and put our own trail in the snow. Tired and satisfied, we reach the Hotel Cuntera, where we are warmly welcomed.  (Reservation: info@hotel-cuntera.ch)
day
2nd day: We only wear the snowshoes until we reach the trail that leads us on the historic Lukmanier pass route to Mompé Medel, a small Walser settlement with Bilck on Disentis. During the steep descent to Cuflons, right up to the Rhine, concentration is required. Arriving at the river, only the murmur of the water welcomes us - it is an idyllic place. We slowly start the ascent to Disentis and as soon as we reach the winter hiking trail, we pack up the shee shoes and it is not far to Disentis station.
Geheimtipp
In Stagias steht der Holzbau der Academia Vivian, auf dessen Treppe man herrlich Pause machen kann. Hinter dem Hotel Cuntera führt eine Hängebrücke aus Lärchenholz über ein imposantes Tobel.
Sicherheitshinweis
Die beschilderte Route in der Wildruhezone nicht verlassen.
Directions
Auf der Zufahrtsstrasse erreichen wir von Sedrun in ca. 45 Minuten Cavorgia. Ab hier ist der Trail pinkfarben signalisiert. Wir folgen der Route Richtung Stagias. Bei der ersten Abzweigung behalten wir die Richtung bei und die Route macht eine längere Schlaufe in ein Tälchen hinein. Wir gelangen nun auf eine Lichtung mit ein paar Maiensässen. Kurz danach gibt es eine Abzweigung. Hier halten wir nach rechts hinauf und wir bleiben auf dem Weg bis Stagias. Bei der Kreuzung halten wir rechts und folgen der Beschilderung zur Alp Pazzola. Auf dem gleichen Weg zurück bis Stagias. Dann führt die Route über eine zugeschneite Strasse bis nach Mutschnengia. Nach dem Dorf wandern wir auf der Zufahrtsstrasse bis wir die Signalisation für den Schneeschuhtrail links an der Strasse erreichen. Anfangs ist es ein zugeschneiter Feldweg, später folgen wir dem Wanderweg. Kurz nach der Erinnerungstafel zum historischen Weg, steigt der Weg nach links an und führt uns zum Wald hinaus bis zu einem Schlittelweg. Einige Minuten wandern wir auf oder neben diesem Weg. Dann weist uns die Signalisation über einen Rücken bis Mompé Medel. Bei der Kapelle finden wir die Abzweigung nach Cuflons hinunter. Wir überqueren die Brücke, es gibt einen Anstieg bis zum Winterwanderweg Richtung Disentis.
Responsible for this content Sedrun Disentis Tourismus.
This content has been translated automatically.

This website uses technology and content from the Outdooractive platform.