From Claudio Caluori.
5 Tips for Flims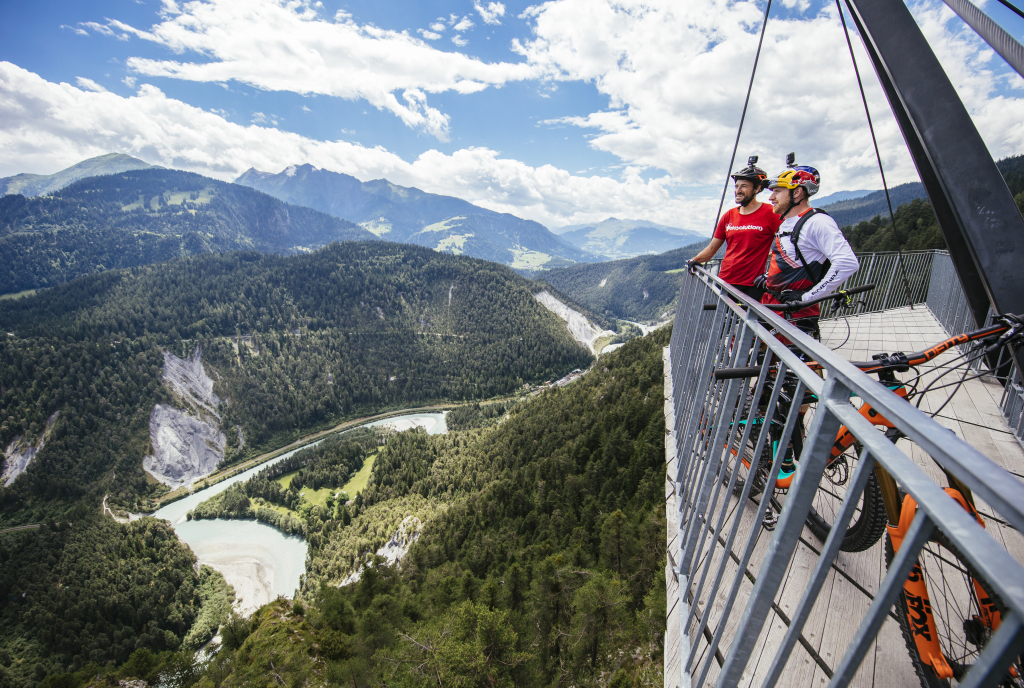 Claudio Caluori, cult biker from Graubünden, loves his sport more than anything else. However, even he gets off the saddle eventually to enjoy the moment after a bike tour. Where are the best wines served? Where can you experience the Caribbean in XS format? Discover his five insider tips for the Flims bike region.
Tip 1: Grandis Ustria da vin in Laax
In a modern, cosy atmosphere you can enjoy the finest antipasti, grilled meat or a raclette from the open fire - together with your favourite wine. Over 1000 wines and spirits are exhibited in elegant display cases.
Balm for tired biker legs: Lag la Cauma with its turquoise blue water and surrounding green fir trees. Take a refreshing dip or simply laze around. By the way: Danny MacAskill also liked Lake Cauma, as the video «Home of Trails» proves. Not seen it yet?
Whether by bike, skateboard or scooter: the course of the Urban Wave in Flims consists of waves and hollows and a rounded basin, so that one must constantly shift your centre of gravity. Almost like surfing. Just on asphalt. The constant gentle ups and downs as well as the acceleration and deceleration are great fun.
At the Arena Lodge in Flims you can stay overnight in cool designer rooms, meet locals at the bar, eat a fine steak at Ca'Grand's Arena Kitchen and dance until the early hours of the morning. Just make sure you want to get on the bike again the next morning. Missing out on trails would be too bad here.
On the Runca trail just minutes ago and already on the terrace of the Legna Bar. This bar is made completely out of wood as the Rhaeto-Romanic name suggests. Après biking at its best with good music and drinks. An ideal to reflect on your bike tour experience.
Haven't seen yet the video «Home of Trails»?