From A to B.
Bike Transport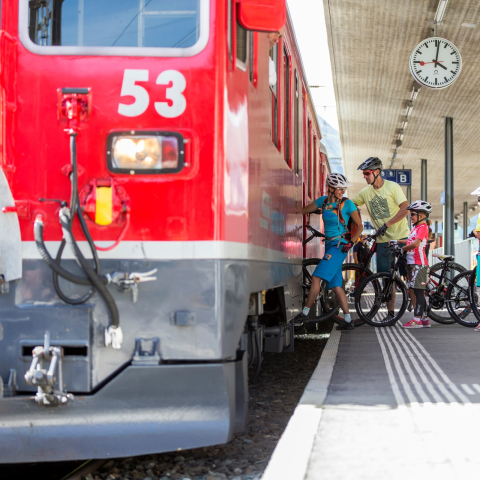 If you ever run out of steam during your bike tour, the numerous cable-cars, the Rhaetian Railway and the Graubünden Post bus will transport you and your mountain bike conveniently from the valley to the summit or from A to B.
Bike Transport on the Cable Cars
Do you want to save a few sweaty meters of altitude? Mostly, as long as you spend at least one night in a certified graubündenBIKE-Hotel, you get public transport in the region included free, and many additional services as well, such as free bike transport on the cable-cars or a free entry to the thermal baths.
Transport on the Rhaetian Railway and the Post Bus
Are your legs sore? Or do you just want to get from a singletrack to the nearest Flow Trail quickly by «jumping» a train? No problem: the Rhaetian Railway will transport you and your beloved mountain bike there quickly and easily. And for places where the Rhaetian Railway tracks don't go, take the yellow Post buses which go to every mountain village no matter how small. Frequent users are best advised to use the graubünden Pass Bike.