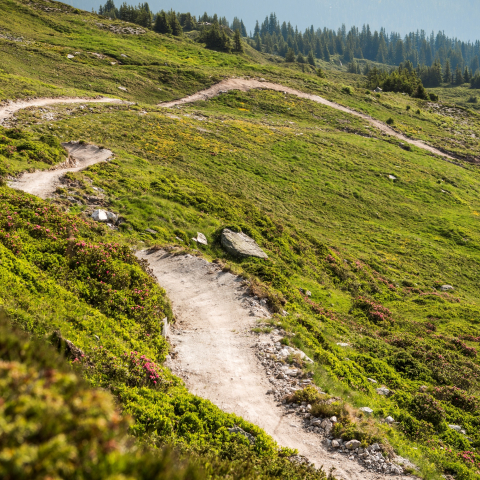 From the Glacier to the Rhine Gorge: In Laax you can discover a 330 kilometer long network of trails. And all this in a magnificent play of colours, from deep green forests past Caribbean blue mountain lakes up to the white gleaming glaciers. Flims is the showpiece region for biking holidays for families as well as for e-mountain bike touring.
Show all 10 images
The TREK Runca Trail was awarded as one of the longest Flow Country Trails in Europe by the IMBA (International Mountain Bicycling Association). Beginner bikers ride away over simple rollers while the ambitious bikers go styling it with pace on the banks, jumps and rollers. With its Northshore, Dirt and Freeride elements, the TREK Runca Trail is a playground for freestyle oriented bikers and freeriders.
«A mountain bike season in Flims»
Armin Beeli, Marian Gort, Anita and Caro Gehrig have two things in common: a natural paradise right outside their front door, and their passion for biking. No wonder they prefer to be on two wheels. On rapid singletracks and unique natural wonders, in this video they show their personal secret insider tips in the Flims Bike Region.