From Glaciers to Palms.
Bernina Express
A masterpiece of railway engineering: the Bernina and Albulaline has been recognised as part of the UNESCO World Heritage since 2008. The Bernina Express snakes along the highest railway lines in the Alps from Chur or St. Moritz to Tirano – with a bus connection to Lugano. Daredevil climbs and bold viaducts make it an unforgettable journey.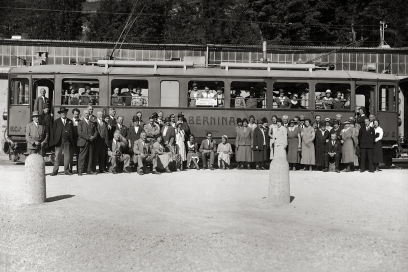 First journey: 1973
Route length: 144 kilometres
Journey time: 4 hours
Number of tunnels: 55
Number of bridges: 196
Frequently Asked Questions
| | |
| --- | --- |
| Where does the Bernina Express start? | The Bernina Express runs daily from Chur to Tirano and back. For those who prefer to start their journey from St. Moritz or from Tirano, the Rhaetian Railway has a corresponding offer for the summer months. Guests who would like to extend their journey from Tirano can continue to Lugano on the Bernina Express bus. You can find more information on the official website. |
| What time does the train leave? | In Chur, the Bernina Express departs at 8.32 and 13.30. In St. Moritz, the train departs three times a day at 9.17, 13.17 and 16.14. As departure times are subject to change, please check the official website before travelling. |
| Where can I book the ride? | The seat on the Bernina Express must be reserved in advance. You can make the reservation and booking online, by telephone on +41 81 288 65 65 or at the ticket office. You can find more information on the official website. |
Railservice Bernina Express
The customer service is there for you daily from 07.00 to 19.00.