Ruin Surselva
Burg Jörgenberg/Casti Munt Sogn Gieri, Waltensburg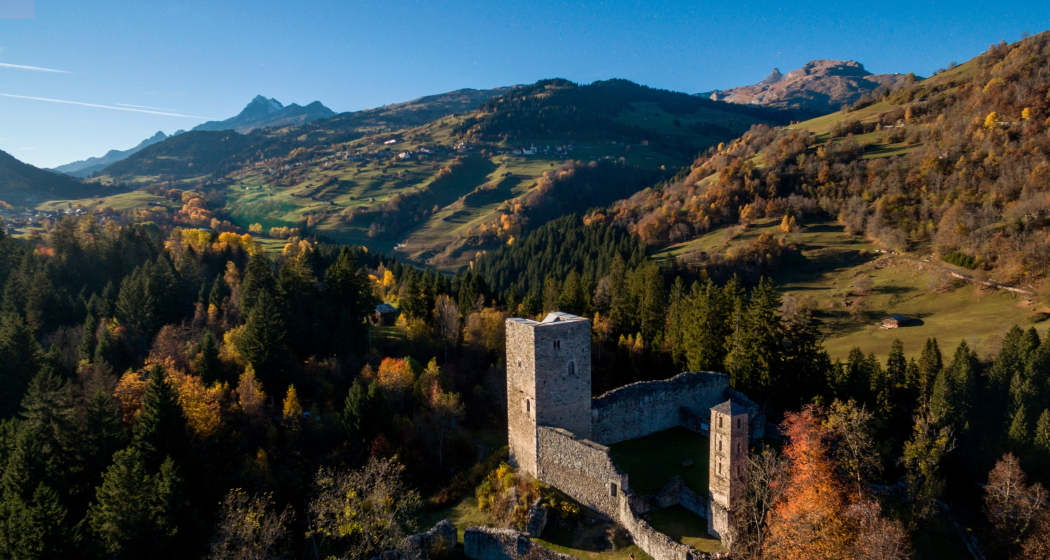 Show all 4 images
The Casti Munt Sogn Gieri on Jörgenberg near Waltensburg is the most imposing and oldest castle complex between the Rhine Gorge and the source of the Rhine.
Burg Jörgenberg/Casti Munt Sogn Gieri, Waltensburg
7158 Waltensburg/Vuorz
Description
Jörgenberg is the largest castle complex in the Surselva. The walled castle area includes, not counting the moat, an area of around 100 by 70 meters. The complex is divided into a main castle, which extends over the plateau of the rocky spur, and into a bailey, which includes a fenced area on the southern slope terrace. The entrance rises from the bottom of the ditch against the outer gate between the main and outer bailey
.
The outer bailey can be reached through its own wall opening in front of the outer gate. The main castle is completely surrounded by a perimeter wall. The overall development on the periphery of the area is divided into four building complexes: sacred area with church of St. George, high medieval feudal living and defense area, high and late medieval administrative and representative wing and the economic wing.
The church of St. George, which is located opposite the nave, dates back to ancient Carolingian times. The church was rebuilt and extended around 1100. A bell from 1484 hung from 1562 in the tower of the church Waltensburg. In the south-western corner of the area there is a well-preserved tower with five storeys. On the 4th and 5th floor are the living rooms.
Inside in the northwest corner of the main castle area, the remains of four unequally sized houses are present, the oldest is located directly in the Beringecke. They have ground-level entrances. In these houses probably the stately offices were accommodated. In the narrow northwestern part of the area there are sparse remains of two almost rectangular buildings, in which presumably stables or storage rooms were housed.
At the beginning of the 14th century, the castle belonged to the Lords of Friberg. After the extinction of the Friberg around 1330, the castle came into the possession of the Rhäzünser.
Jörgenberg was thus the actual administrative centre for the Rhäzüns estates in the Surselva. The interest from Lugnez, Rueun and Alp Runaschg had to be delivered there. On 6 June 1462, the Rhaeogians sold the complex to Disentis Abbey. In 1580 Jörgenberg was sold to L. Gandreya, who is said to have lived in the castle. The structural decline of the castle occurred in the 16th and 17th centuries.
On the way back, about 600 meters southwest of the castle ruins, the detour on the path "to the gallows" is worthwhile. The two stone pillars of an earlier gallows bear witness to witch hunts and executions in the 17th century.
(Text entered by: Regiun Surselva)
Responsible for this content Surselva Tourismus AG.
This content has been translated automatically.

This website uses technology and content from the Outdooractive platform.