Architecture Engadin Samnaun Val Müstair
La Tuor Planta Susch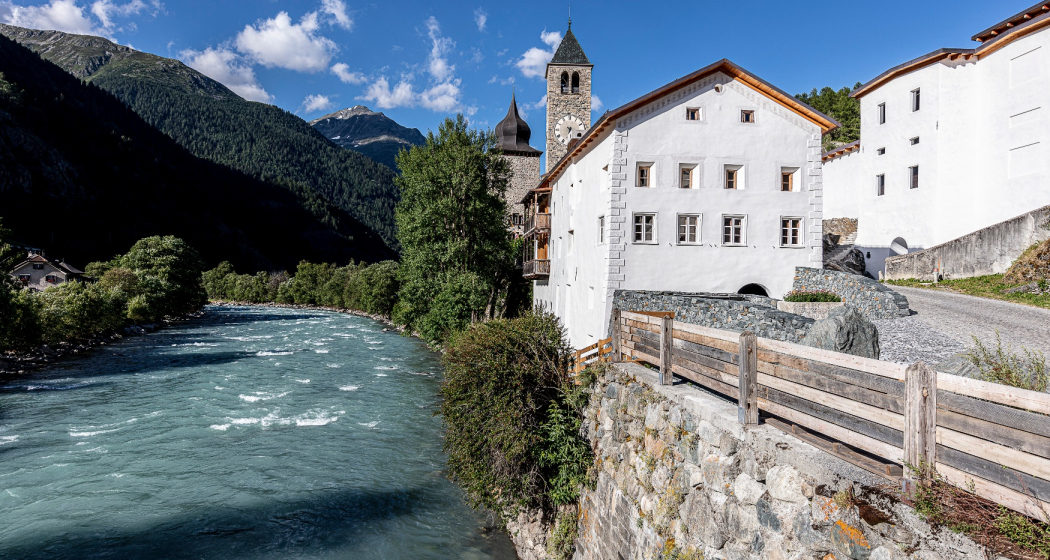 La Tuor Planta is the second remaining medieval residential tower in Susch, next to the Tuor la Praschun, and stands next to the church on the banks of the Inn.
Description
The striking five-storey building with its bearing-like masonry measures 8 × 8 metres in ground plan. In post-medieval times, the tower was structurally altered several times on the outside and inside. The baroque onion dome probably dates from the 17th century. In addition to the residential building still visible today, other buildings were leaned against the tower.
In a picture from 1888, the uppermost storey of the tower still has numerous square wall openings, which are bricked up today. Presumably they were used for ventilation because meat and fruit were dried here. Around 1900, the house between the church and the tower was demolished and the whole tower was rebuilt inside. The new rooms on the lower floors were given modern window openings. After several changes of ownership after 1926, the tower is now owned by the von Planta family.