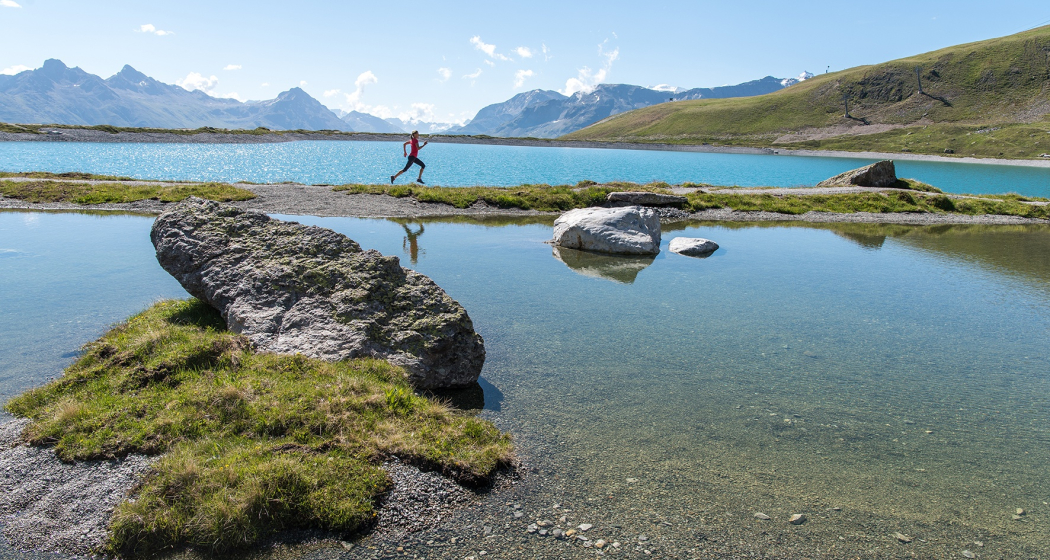 Show all 3 images
Trail running on beautiful single trails in the ski area of Corviglia
Start
Ovaverva, St. Moritz Bad
Destination
Ovaverva, St. Moritz Bad
Coordinates
46.484583, 9.836064
Description
The tour starts in St. Moritz Bad at the Ovaverva indoor swimming pool and leads towards the car park of the Signal aerial cableway. The path immediately starts off uphill and continues via the valley downhill run to the Via Alpina. From there, it covers a short stretch on asphalt and then takes you along the forest road towards Salastrains. The Corviglia ski area is at your feet and a speedy descent takes you behind the Hotel Salastrains along a path (not a proper hiking trail) into the heart of the trail paradise. You then continue along single trails (look out for mountain bikers!) and through a rocky area, parallel to the mountain bike flow trail, up to the Corviglia. From there, it is downhill all the way to Marguns. This is the start of beautiful single trails and great views out towards the Lower Engadin. The path climbs steadily and then turns off to the left towards Trais Fluors (top station of the chairlift). Here you are mostly alone and can enjoy the narrow path across huge fields of scree. Once you arrive at the top station of the Trais Fluors chairlift, the path takes you back down again to the Lej Alv. This lake serves as a water reservoir in winter and in summer numerous athletes use the path around it for altitude training. Next, continue to the Corviglia and then run alternately along trails and forest roads to the Signal aerial cableway. From here, the route takes you the same way down as you initially came up.
More information
Egnadin Tourismus AG
Via Maistra 1 
CH-7500 St. Moritz
Phone: +41 81 830 00 01
E-mail: allegra@engadin.ch 
Internet: www.engadin.ch 
Geheimtipp
This trail leads again and again past a mountain railway, so that you can exit or start in between.
Directions
Ovaverva, St. Moritz Bad - parking area Signal gondola - Salastrains - Corviglia - Marguns - Trais Fluors - Lej Alv - Corviglia - Signal - Salastrains - parking area Signal gondola - Ovaverva, St. Moritz Bad