Window to the Swiss Alps.
Glacier Express
From St. Moritz, Davos or Chur to the Matterhorn: The Glacier Express takes you on one of the most beautiful routes through the Alps. Some of the best views are the Rhine Gorge and the Oberalp Pass at 2,033 m above sea level. You can allow yourself to be indulged in your seat with regional specialities.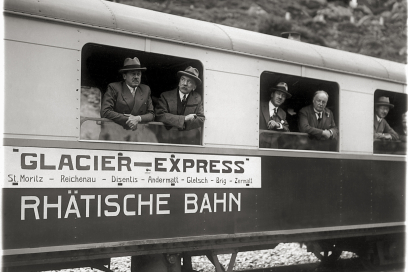 First journey: 1930
Route length: 291 Kilometer
Journey time: 8 Stunden
Number of tunnels: 91
Number of bridges: 291
Frequently Asked Questions
| | |
| --- | --- |
| Where does the Glacier Express start? | The Glacier Express starts in St. Moritz, although you can also board the train in Davos, Tiefencastel and Chur. You can find more information on the official website. |
| What time does the train depart? | In the winter months, the journey starts in St. Moritz at 8.51 am. In the summer months, the train departs twice daily at 8.51 am and 9.50 am. As departure times are subject to change, please check the official website before travelling. |
| Where can I book the journey? | The seat on the Glacier Express must be reserved in advance. You can make the reservation and booking online. |
Railservice Glacier Express
The customer service is there for you daily from 07.00 to 19.00.