From Claudio Caluori.
5 Tips for Arosa Lenzerheide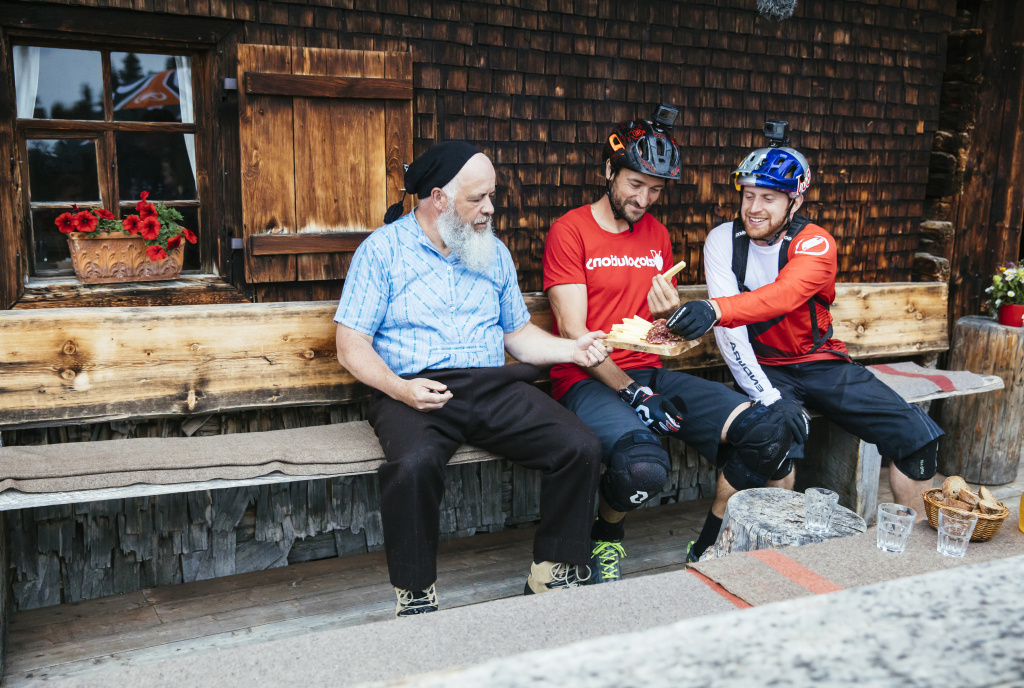 Claudio Caluori, cult biker from Graubünden, loves his sport more than anything else. However, even he gets off the saddle eventually to enjoy the moment after a bike tour. Where is the most rustic alpine hut? Where can you get coffee together with a bike chain replacement? And where does the world elite battle for gold medals and world champion jerseys?  Discover Claudio Caluori's five insider tips for the Arosa Lenzerheide bike region.
A plate with fine meet from Graubünden and mountain cheese, a jug of elderflower syrup and a first-class panorama in front of your eyes: the rustic Fops alpine hut is the perfect place to take a break and recharge your batteries. By the way, Danny MacAskill and Claudio Caluori jumped with their bikes from the terrace at the Fops alpine hut. Not seen it yet? Click here for the video «Home of Trails»
Tip 2: Biking hut in Furcletta Bike
Furcletta Bike is a meeting place for cyclists and bike lovers. If you have a defect, you can get your bike fixed while you refuel with a coffee and discuss bike routes with like-minded people, exchange ideas or just simply enjoy.
Tip 3: Bahnentour Arosa Lenzerheide
Caluori's tip for insatiable bikers: The Bahnentour Arosa Lenzerheide is a two-day Bike adventure. You'll descend over 125 km of single trails.
Tip 4: UCI Mountain Bike World Cup 2021
The bike elite will return to Lenzerheide from 4th to 5th September 2021. Would you like to be there when the world's mountain bike elite fight for hundredths of a second? Be part of the incredible crowd and cheer on the athletes from the edge of the track! Whether with shouts, rattles, chainsaws or a whole Guggenmusik, the legendary audience in Lenzerheide is known for its mountain bike enthusiasm.
Tip 5: Sunrise Bike Tour Arosa Lenzerheide
Early risers will be rewarded in Arosa. Before dawn, take the cable car up to the Weisshorn summit, where you will experience a wonderful sunrise and a rich breakfast. Then the trailer experience starts from Arosa via Chur to Lenzerheide.
Haven't yet seen the video «Home of Trails»?