From Claudio Caluori.
5 Tips for Davos Klosters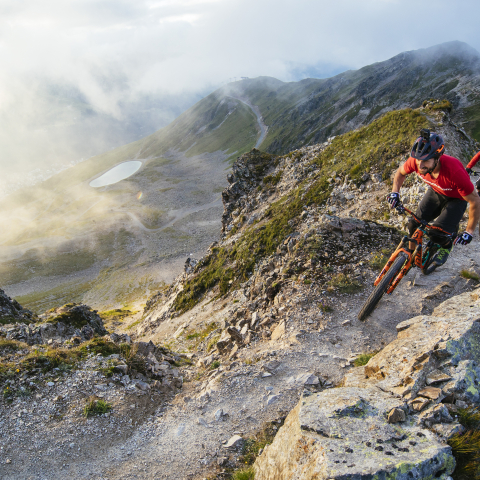 Claudio Caluori, cult biker from Graubünden, loves his sport more than anything else. However, even he gets off the saddle eventually to enjoy the moment after a bike tour. Where is the «last beer stop before heaven»? Where can you refuel during a bike tour with the best chocolate cake? And where are the best places to go out in the evening? Discover Claudio Caluori's five insider tips for the Davos Klosters bike region.
«Last beer stop before heaven» is the slogan of this local brewery in Davos Monstein, a small and exquisite Walser village. Beers such as the «Mungga» or «Steinbock» are produced from crystal-clear mountain spring water, Swiss hops and local organic mountain barley malt. Every Friday, the brewery is open for a free visit, for a leisurely drink and a warehouse sale. Because one thing is proven: beer is an isotonic drink and aids regeneration. Well then: Viva, salute, cheers.
The best chocolate cake is served at Walserhuus Sertig located at the very end of the untouched Sertig Valley. The hotel and restaurant are located along the route of the most famous trail in Davos Klosters, the IMBA-awarded Alps Epic Trail.
The cult bar in Davos for over fifty years. It is a meeting place where young and old come together. Many legendary parties have been celebrated here and many are yet to follow. This bar is the perfect place to have a toast after a memorable bike day with friends - and to plan new adventures.
Tip 4: Wellness and adventure pool «eau-là-là»
Heated outdoor pool with massage jets, bio-sauna, cold water area: relax your legs in the wellness and water world of "eau-là-là". Anyone who was not challenged enough on the bike tour can also swim a few laps here.
Tip 5: Alpenhof restaurant
Grison barley soup or truffle-filled Agnolotti? You can get both in the Alpenhof restaurant. This cosy restaurant in round timber construction serves an exciting mix of local and Italian cuisine.
Haven't yet seen the video «Home of Trails»?