Wasserfall Heidiland
Waterfall Arena Batöni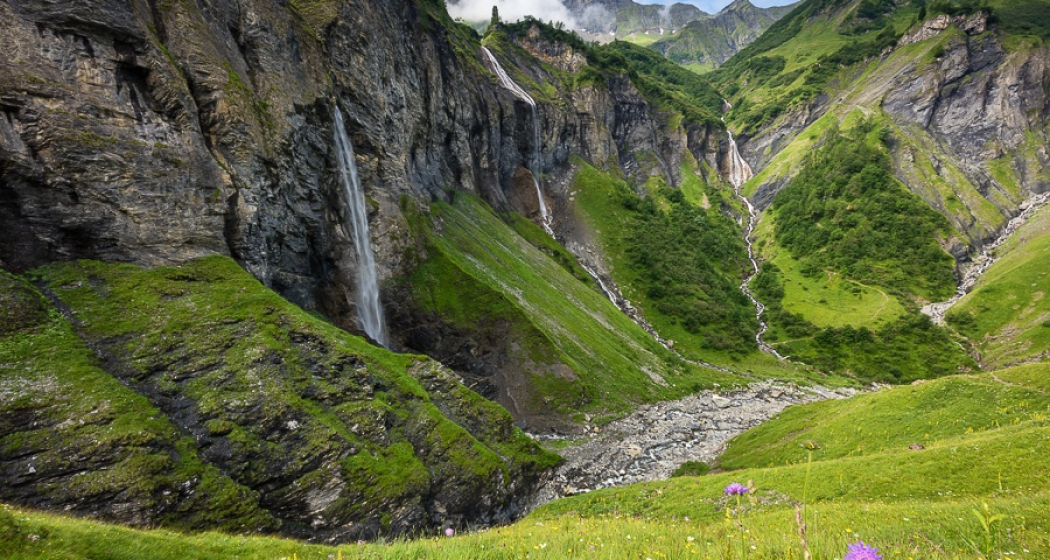 The five idyllic waterfalls - all between 86 and 45 metres high - plunge over the steep cliffs, transforming the Batöni basin into a natural spectacle.
Description
Not only the sight is overwhelming, also the released energies are apparently high and uplifting. This is why the Batöni waterfall arena belongs in esoteric circles to one of a total of 55 places of power, distributed over the entire vacation region of Heidiland, which have been documented in collaboration with the Swiss Power Places research center. These so-called places of wonder can be discovered in 15 circular hikes. Hiking descriptions of a special kind not only point out energetic observations, but also tell of historical facts, legends and traditions.
The easiest access to the waterfall arena is from Weisstannen. The hike there and back takes about three hours (7 km / 590 hm). Stage 4 of the Sardona World Heritage Trail No. 73 from Weisstannen to the Sardona Hut SAC also leads past the Batöni waterfall arena. And since this is located in the federal hunting ban area Graue Hörner, there is a good chance that you will be observed by curious chamois, deer or ibexes on the hike.
Directions
Public Transport
By train to Sargans, change to bus B 433 (direction Heiligkreuz (Mels), Ragnatsch), in Mels/ Pizolpark change to bus B432 (direction Weisstannen, Oberdorf ), get off at Weisstannen/ Oberdorf, walk approx. 3.5km along the Sardona World Heritage Trail in the direction of the Sardona Hut.
Directions
By car to Weisstannen SG (parking available in the village), on foot follow the Sardona World Heritage Trail for approx. 3.5km in the direction of Sardona Hut