Event Heidiland
Flumserberg Open Air 2022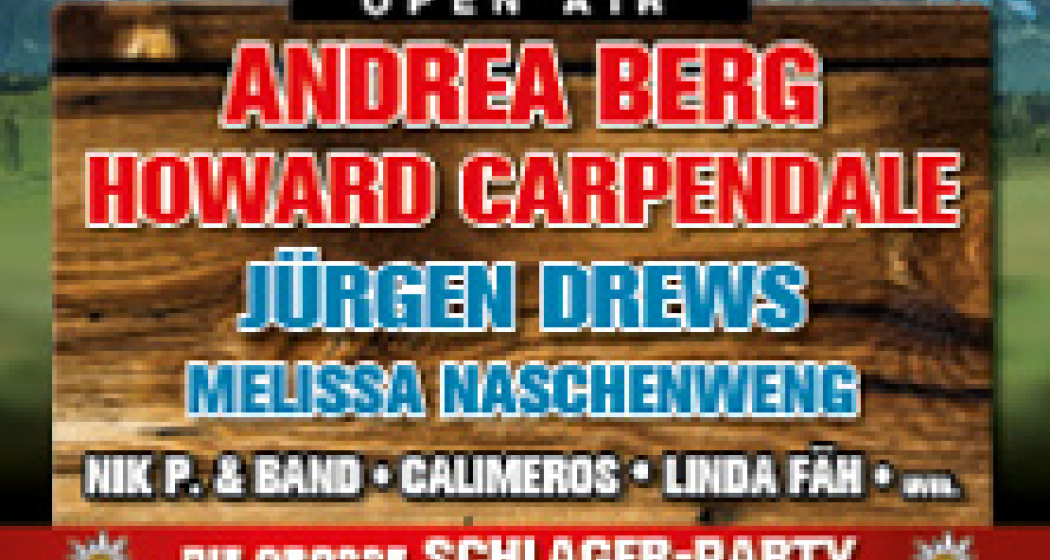 Das beliebte Schlager- und Partyfestival findet neu vom 29. bis 31. Juli 2022 statt. Das Festivalprogramm soll beibehalten werden.
Description
Price
Stehplatz: 350,90 CHF
VIP: 0,00 CHF
Die beiden Veranstaltungen am Flumserberg müssen aufgrund des Veranstaltungsverbotes von COVID-19 nochmals verschoben werden.
Die von Ihnen gebuchten Tickets behalten Gültigkeit für das Verschiebedatum und/oder einen neuen Veranstaltungsort und können grundsätzlich nicht zurückgegeben werden.
Haben Sie eine Ticketschutzversicherung abgeschlossen und sind Sie am neuen Datum aus bereits vorgängig bekannten und versicherten Gründen verhindert, erhalten Sie den Ticketpreis zurückbezahlt. Wenden Sie sich hierfür bitte mit Angabe des Verhinderungsgrundes direkt bei unserem Versicherungspartner https://erv.ch/de/service/schadenfall.
Falls Sie keine Ticketschutzversicherung bei uns abgeschlossen haben, prüfen Sie, ob eine Ihrer anderen Versicherungen (z.B. Reise- oder Hausratversicherung) den Ausfall deckt.
Das Programm für 2022 sieht wie folgt aus:
29.07.2022 Edelwyss Party als Warm Up für das Festival
30.07.
Das beliebte Schlager- und Partyfestival findet neu vom 29. bis 31. Juli 2022 statt. Das Festivalprogramm soll beibehalten werden. Die Organisatoren des Flumserberg Open Air haben sich auf Grund der aktuellen Pandemiesituation und dem vom Bundesrat skizzierten Plans zur Durchführung von Grossanlässen entschlossen, den Anlass ins Folgejahr zu verschieben. Das beliebte Schlager- und Partyfestival findet neu vom 29. bis 31. Juli 2022 statt. Sämtliche bereits gekauften Tickets behalten ihre Gültigkeit. «Es tut uns sehr weh, dass das Flumserberg Open Air erneut verschoben werden muss. Bei aller Liebe zur Musik und Kultur steht aber für uns die Gesundheit des Publikums und der auftretenden Künstlerinnen und Künstler im Vordergrund.» sagt Festival-Chef Walter Egle. Veranstalterin Stargarage bemüht sich, das diesjährige Programm unverändert für 2022 beizubehalten. «Wir stehen mit den verschiedenen Künstlern und ihren Agenturen in Kontakt und werden versuchen, möglichst alle im nächsten Jahr präsentieren zu können. Besonders freut uns die rasche Zusage von Andrea Berg und Howard Carpendale, die hier ihre Solidarität mit den Festivalveranstaltern zeigen.» Bereits zugesagt haben auch Jürgen Drews, Melissa Naschenweng, Nik P. + Band, die Calimeros und Linda Fäh. Weitere Zusagen werden laufend auf unserer Homepage www.flumserberg-openair.ch kommuniziert. Das Programm für 2022 sieht wie folgt aus: 29.07.2022 Edelwyss Party als Warm Up für das Festival 30.07.2022 Die Mega 90's Party 31.07.2022 Schlager Open Air Mitwirkende: Karat, Ticketcorner Gutschein, Peach Weber, Die Paldauer, Gery Seidl, QUATSCH Comedy Club, Bibi Blocksberg - Das Musical, Abdelkarim, Michl Müller, Die Amigos, Herbert Pixner Projekt, Johann König, Schwanensee Ballett, Josef Hader, Matthias Jung, Disneys König der Löwen, FC Luzern , Grasshopper Club Zürich , Hans Söllner, Dr. Eckart von Hirschhausen, Thommy Ten, Gerd Dudenhöffer, AlexKristan, Markus Hirtler, Martin Rütter, Cabaret DivertiMento, Snatam Kaur, Bad Taste Party - Bierhübeli, Bravo Hits Party, Andrea Bocelli, Cabaret Lune Noire, Luise Kinseher, Klaus Eckel, Blue Man Group in Berlin, Rolf Schmid, Die Seer, Danceperados of Ireland, Shake It, Jan van Weyde, Hit Me Up! Die abgefahrene Ü16 Sause, Boooom – Die 2000er Poardy, Twenty – Ü20! Es laufen nur Hits, Mike Müller, Ben Zucker, Leoniden, Game of Thrones - The Concert Show, Günter Grünwald, Dieter Thomas Kuhn, Royal Republic, Gunkl, Der Nussknacker - Ballett, Cats, Russian Classical Ballet, Die Paldauer, Swiss Army Central Band, Till Reiners, Andreas Kümmert, Plácido Domingo, Disneys ALADDIN in Stuttgart, Die Nacht der Musicals, FC Wil 1900, Kastelruther Spatzen, Ralf Schmitz, Folkshilfe, Best of 2000er Party - Bierhübeli, TINA - Das Tina Turner Musical in Hamburg, Ozzy Osbourne, Judas Priest, Martin O., Andrea Berg, Joss Stone, Candy Dulfer, Comedy-Duo Messer & Gabel, Täuschungsmanöver, Internationale Travestie-Revue "Traumzeit", Suzanne Grieger-Langer, Casinotheater Winterthur, D'Jal, Cavalluna, Martin Frank, Casinotheater Winterthur, Chris de Burgh, Xavier Naidoo, Hot Boogie Chillun, The Jive Aces, Route 66 Aarburg, Erkan & Stefan, Extasia, Angelo Kelly & Family, Roland Düringer, Sarah Connor, Dieter Nuhr, Barbara Balldini, Hazel Brugger, Olaf Schubert, Helmut Schleich, Casinotheater Winterthur, Annett Louisan, Häberli Oggier, Markus Krebs, Stand Up! Comedy Show, Sarah Lesch, Silbermond, René Rindlisbacher, Sascha Grammel, Starbugs, Biyon Kattilathu, Electric Nation, Traktorkestar, Pink Floyd History, Herbert Knebel, Queenmania - Queen Tribute Show, Deva Premal & Miten, Daniel Sloss, Chaos-Theater Oropax, Albert Hammond, Die grosse Schlagerparty, Die drei Fragezeichen, Serdar Somuncu, Pasión de Buena Vista, Naturally 7, Lara Fabian, Simply The Best – Die Tina Turner Story , Peter Pfändler, Rob Spence, Claudio Zuccolini, Comedy-Duo Messer & Gabel, Michael Elsener,Disney in Concert, Grimethorpe Colliery Band, Brassed Off, Ass-Dur, Casinotheater Winterthur, Massimo Rocchi, Emmen Lacht, Hammer Comedy Tage, The Simon & Garfunkel Story, Roachford, Jan Garbarek, Trilok Gurtu, Jazz Classics, Tahnee, Peter Maffay, MAMMA MIA! – Das Musical in Berlin, Avishai Cohen , Daddy Yankee, Mike Candys , Vengaboys, Leeroy, DJ Matty Valentino, Pub Festival Wetzikon, DJ O-Dee, DJ Nameless , DJ Black Spirit, Le Shuuk, DJ Don Philippo, DJ Marc, Ikke Hüftgold, Geilomat, DJ Biene, Charly's Partyband, DJ Greg, Abbamania – The Show, That's Life – Das Sinatra-Musical, Roland Kaiser, Feuerengel, Kyan Khojandi, Max Lässer & das Überlandorchester, Pedro Lenz, Alice Cooper, Thunder, Mother's Finest, Rock Meets Classic, Joyce Jean Kennedy, Liedfett, Thomas Anders, Schlager Nacht Luzern, Mickie Krause, DJ Ötzi, Marc Pircher, Modern Talking mit Thomas Anders & Band, Sonia Liebing, Russell Howard, Il Divo, Faisal Kawusi, Markus Maria Profitlich, Oliver Pocher, Genève Opera & Ballet, Sinatra & Friends, Lars Reichow, Haddaway, Jasmin Wagner, Oli.P, Vengaboys, Snap, Masterboy, Blümchen, LayZee, 2 Unlimited, Captain Jack, Die Mega 90s Party, The New Roses, Miss K8, Angerfist, MC Tha Watcher, Deadly Guns, Masters of Hardcore, Furyan, Tha Playah, Mad Dog, Giuly, DRS, The Satan, Broken Minds, Özcan Cosar, Mariza, Beth Hart, Simon Enzler, Adel Tawil, Ines Anioli , Viktor Vincent, Enrico Macias, Alain Souchon, Massimo Rocchi, Dani Lary, She Past Away, This is Rock, Comédie de la gare, One Vision Of Queen, Marc Martel, Pink Martini, Elvis - Das Musical, Hämatom, Marc-Antoine Le Bret, Schwanensee Ballett, Harry G, Casse-Noisette - Ballet en 2 actes de P.I. Tchaïkovski, Büetzer Buebe, Trauffer, Gölä, Pietro Lombardi, Sinfonie in Bildern - Beethoven 9, Sprachaustausch, Versengold, Mr.
Contact
8898 Flumserberg Tannenbodenalp
Responsible for this content Stargarage AG.
This content has been translated automatically.

This website uses content from Guidle.