53 Bernina-Tour: Stage 3 Diavolezza-Fuorcla Pischa-Pontresina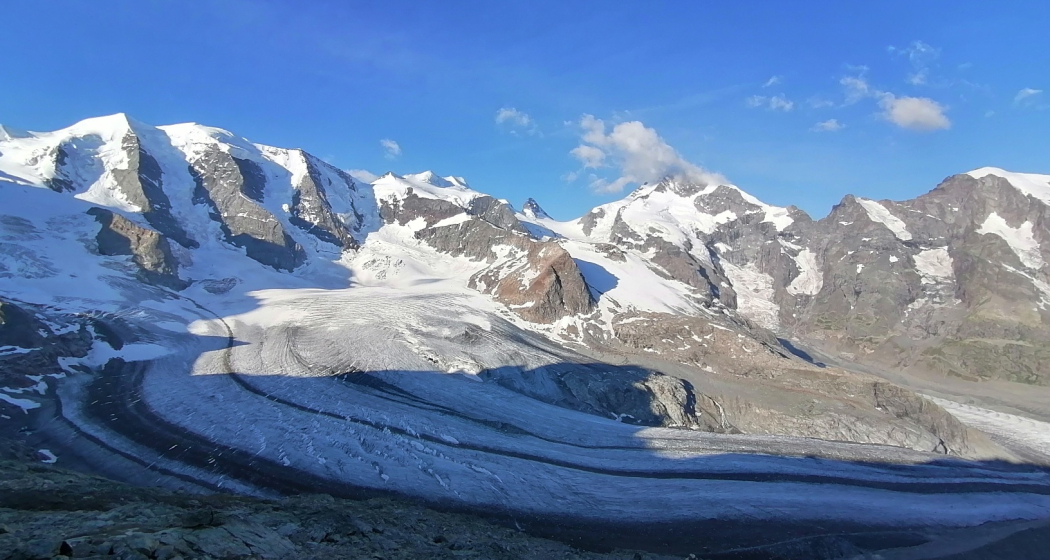 Show all 17 images
From the glacier world of Diavolezza over the stone desert of  Fuorcla Pischa down to the mountaineering village Pontresina.
Coordinates
46.441343, 9.983523
Description
Take a last look at the magnificent mountain panorama as you won't get that close to the Bernina massif again on your way to Maloja.
Those who chose a more leisurely paced day can take the gondola down to the valley. The others descend the same way to Lej da Diavolezza and continue along the ski slope to the valley station of the Diavolezza gondola. At the valley station, the path crosses the pass road and follows the road for a short stretch before it joins a gravel road which goes down over the bridge and into Val da Fain. The Val da Fain is famous for its special flora and this is a place where the whistle of the marmots can often be heard. After about half an hour, the path branches off and leads in a steep zigzag up to the rocks of Piz Albris. For the last part, surefootedness is a must. Then the wide plateau of the Fuorcla Pischa with numerous cairns and many small lakes opens up. This area is home to one of the largest ibex colonies in the Alps. With luck and a good eye, the king of the Alps can be spotted in the rocks. After crossing the Fuorcla Pischa, the path turns left down to the Lej Languard. Take a rest at the beautifully situated mountain lake. The path then continues on through Val Languard, past numerous marmot holes (often you can see the marmots playing in the meadows), to the top station of the chairlift Alp Languard. At Alp Languard takes you the chairlift down to Pontresina. You can also descend on foot for about one hour to the village.
More information
Engadin St. Moritz Tourismus AG
Via Maistra 1
CH-7500 St. Moritz
E-mail: allegra@engadin.ch 
Internet: www.engadin.ch 


Booking
Eurotrek AG
Zürcherstrasse 42
CH-8103 Unterengstringen
Phone: +41 44 316 10 00
E-mail: eurotrek@eurotrek.ch 
Internet: www.eurotrek.ch/bernina-tour-6-5 
Geheimtipp
Instead of walking out the Val Languard, you can descend to Pontresina via the Paradis Hut.
The chairlift runs until 5.30pm.
Sicherheitshinweis
After the steep zigzag to Fuorcla Pischa, there can be snow until July. Unfortunately, there is no alternative route. Please use caution.
Directions
Berghaus Diavolezza - Lej da Diavolezza - Diavolezza valley station - Val da Fain - Fuorcla Pischa - Lej Languard - Alp Languard - Pontresina