From Claudio Caluori.
5 Tips for Engadin Samnaun Val Müstair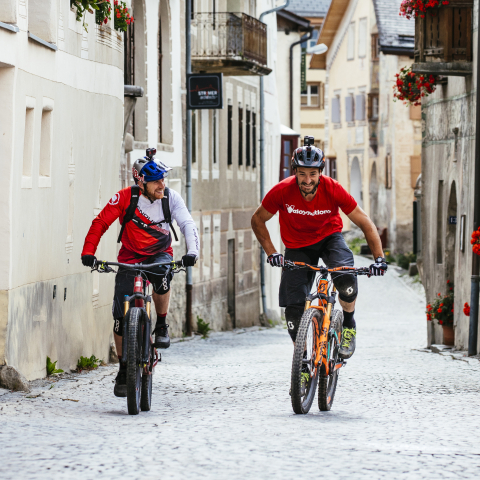 Claudio Caluori, cult biker from Graubünden, loves his sport more than anything else. However, even he gets off the saddle eventually to enjoy the moment after a bike tour. Where is the smallest whiskey bar in the world? Where can you bathe in mineral water? Discover Claudio Caluori's five insider tips for Scuol Samnaun Val Müstair bike region.
Tip 1: The smallest whiskey bar in the world
The best end to a great bike tour is in the smallest whiskey bar in the world - says Claudio. A German dental technician has made his passion for noble spirits to his profession in Sta. Maria and has since then been serving rare and exquisite drinks.
Tip 2: Bogn Engiadina Scuol
Tired legs after the bike tour? After a bath in the Bogn Engiadina in Scuol you will be fit and ready for your next adventure. Because here you can relax your muscles in mineral water. The Roman-Irish bath is also highly recommended.
Tip 3: Camping Muglin Val Müstair
A few years ago a farm, today an accommodation for bikers and families: The Muglin camping ground in the small and beautiful Müstair is an ideal starting point for bike tours in the «Home of Trails».
Instead of sitting safely in the saddle, would you like to hang in the ropes? You can experience the forest from a bird's eye view on the eight courses of different heights and difficulty levels.
Tip 5: Alpine brewery Girun
The Alpine brewery Girun in the Lower Engadin mountain village Tschlin is small and sophisticated. Brew master Florian Geyer likes to philosophize about his great passion and, in addition to delicious thirst-quenchers, also serves regional cheese and meat products - and even white sausages with pretzels. Viva (cheers)!
Haven't yet seen the video «Home of Trails»?