From Claudio Caluori.
5 Tips for Engadin & St. Moritz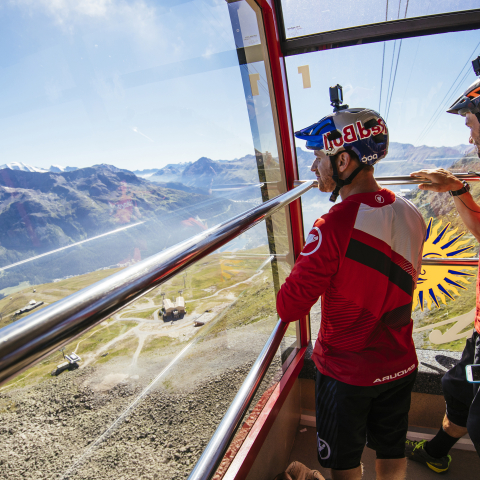 Claudio Caluori, cult biker from Graubünden, loves his sport more than anything else. However, even he gets off the saddle eventually to enjoy the moment after a bike tour. What is THE meeting place for bikers? Where can you find good music? Discover his five insider tips for the Engadin and St. Moritz biking region.
Tip 1: Alto Bar on Chantarella
Those who become dizzy on the Corviglia flow trails can take a rest in the Alto Bar. The cosy lounge with probably the most beautiful view over St. Moritz invites you to linger with local beers, small snacks and Argentinian barbecue specialities.
Meet people, eat, listen to music: The Pitschna Scena at Hotel Saratz is a popular meeting place in Pontresina. The Scena Burgers are especially tasty. And the concerts with blues, rock, pop, funk or jazz are also legendary – taking place every Thursday.
The Roo Bar on the Hauser terrace has almost received legend status after being around for 10 years. Here, old and young, sportspeople and flaneurs, guests and locals meet for Hauser's specialties such as exquisite products from the confiserie. The perfect place for an après-bike moment.
Tip 4: Alp Restaurant Morteratsch
Start your bike day with a hearty alpine brunch. From a huge selection of cheeses from our own cheese dairy to home-made yoghurts and bread to local meat and sausages from Graubünden - and all this in the unique natural landscape at the foot of the Morteratsch glacier.
Tip 5: Sunset in the Bever Lodge
Get off the saddle, sit down and enjoy the sunset. The lounge at the Bever Lodge is a «patschifiger» (cosy) place for après-biking. Claudio Caluori's drink recommendation: the Engadine beer from the local brewery in Pontresina. Viva (cheers)!
Haven't seen yet the video «Home of Trails»?