Impressive Constructions.
Viaducts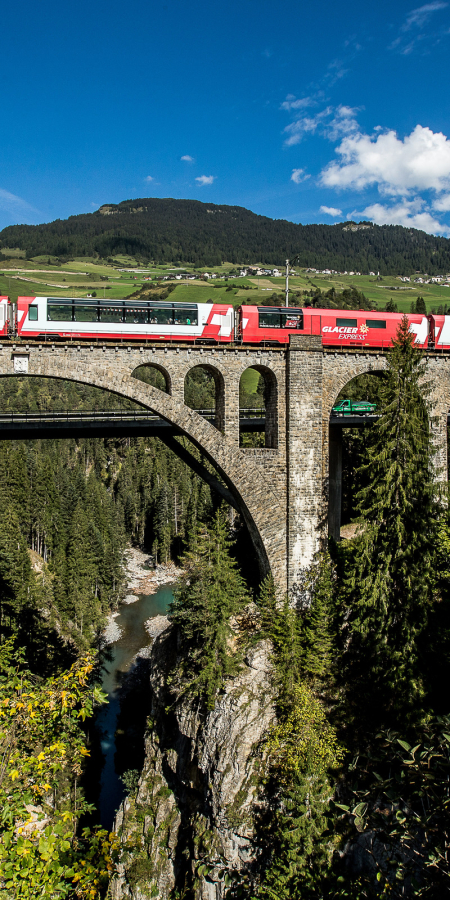 They must have been particularly skilful engineers who helped the Rhaetian Railway to cross every ravine and every mountain stream. They built 612 bridges altogether. These include some world-famous ones such as the Landwasser Viaduct.
It's dark, then light again instantly. The train comes out of one tunnel only to go right into the next one. In between stands a masterpiece of bridge art, a jewel of the UNESCO World Heritage section of the Rhaetian Railway: the Landwasser Viaduct near Filisur. In a wide arc, it crosses – as it has been doing since 1902 – the torrent which rushes 65 meters below. Nevertheless, for this trip you don't need to have a head for heights. But you are allowed to go «Ah» and «Ooh» from the emotion of the sight.
Langwies Viaduct
Grisons people were sometimes pioneers. For example, when they built the Langwies Viaduct. When it was built in 1914, this was the world's first concrete railway bridge on this scale, and it is now a cultural assets of national importance. Anyone travelling by train up into the Arosa mountains can see this bridge, the largest one on the Rhaetian Railway, from a distance and admire it.
Circular Viaduct from Brusio
The most peculiar structure of the Rhaetian Railway is located in the Italian-speaking Val Poschiavo. It is called the «Viadotto elicoidale di Brusio», the circular viaduct. As early as 1907, resourceful engineers got the idea that instead of building a tunnel through the mountain, they could build a circular bridge out in the open. As a result, you can now ride the «Carousel» and enjoy the 360° panoramic landscape in wide format. You do not need to be a «Bähnlifreak» [mad about narrow-gauge railways] to get really excited about this unique construction.