Öffentliche Anlage/Einrichtung Valposchiavo
Via dei Palazzi (Station 2 Rundgang Hildesheimer)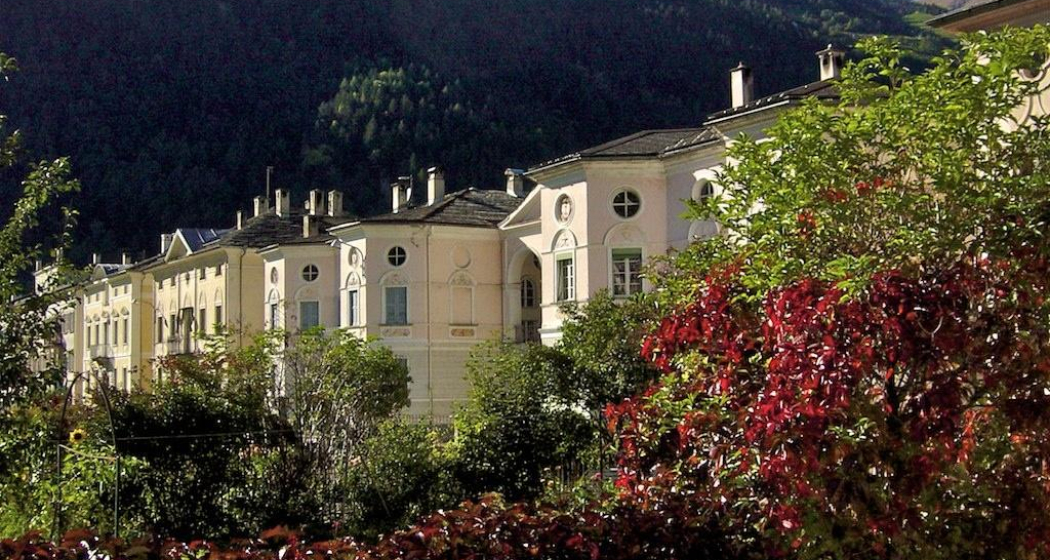 An imposing series of stately buildings from the 2nd half of the 19th century border the historic village centre of Poschiavo to the south. The builders of these residences were returned emigrants, mostly Protestants, who had come to wealth as confectioners with coffee houses in the great metropolises of Europe.
Description
The idea of this new quarter came from the then Podestà, Tommaso Lardelli (1818-1908), who also wanted to create a business card to the south for Poschiavo. Tommaso Lardelli commissioned the Italian architect Giovanni Sottovia with the planning.  
Wolfgang Hildesheimer describes the palazzi of the returned emigrants in the following words:
"Above all, emigration to Spain has not remained without architectural consequences. The first generation of returnees, around 1850, also built palazzi, which not only have the Spanish element, but also - memory of the career - the confectionery element. So we must not look for symbolism in the painting of the facades or their stucco work, which one would often be seduced by the extravagant fantasy of the details - no, it is in architecture transported frosting, cake decoration al fresco. In addition, there are trompe-l'oeils, dummy windows, whose meticulous shortening of perspective only works on one side, which naturally makes them even more unreal from the other side.
Anyone who concludes from this description that these houses are ugly is mistaken. They are strange. But the proportions are "right". They are lovingly realized life goals, but in contrast to the settlement house, the realized and standardized dream - Alpdruck - of your own four walls and your own roof over your head, these are material, strictly individual dreams of many walls and several roofs above the heads of an often large, now almost extinct or widely scattered family."
Source: Experience of the Unexpected, in Merian 14/8, 1961.
Responsible for this content Valposchiavo Turismo.
This content has been translated automatically.

This website uses technology and content from the Outdooractive platform.