Madame Engadine Ski Marathon.
Françoise Stahel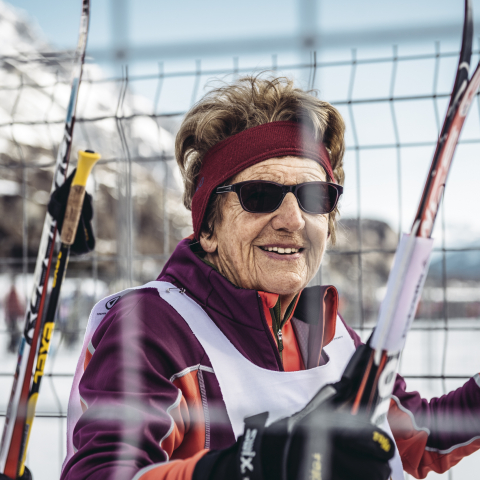 Françoise Stahel has not missed a single marathon since 1969. Now the 80-year-old cross-country skier can't wait for her big anniversary.
Hopping up and down and circling their arms, the 13'119 men and women at the starting line can hardly wait to get going. If it weren't for the deafening warm-up music, you would definitely be able to hear the heart rates of those waiting at the ready. .

3723 of them are at the start on the shores of frozen Lake Sils for the very first time. Not Françoise Stahel.
No other woman in the world has taken part in the Engadine Ski Marathon more often than she has.
Françoise Stahel
Born in France, she travelled to Klosters for a language stay in 1959. Little did she know then how the Swiss mountains would change the course of her life. She found the summers lovely, but it was the winters that she found particularly impressive, explains the sprightly pensioner. Being a receptionist, she was not allowed to ski.
They considered it far too dangerous and couldn't do without me at work.
Françoise Stahel
Françoise Stahel stuck to the rules initially. But she couldn't resist the call of the mountains and started to go skiing in secret. She soon discovered that she loved skiing. Endurance was what she was good at, so she took up cross-country skiing.
The Silent French Revolution
«It's All Down to my Genes.»
Today she finds it hilarious to looks at photos of her first couple of Engadine Ski Marathons: «Just look at my terrible technique!» But endurance was her strong point and helped her achieve an outstanding second place in 1972.

But this was of course not possible without any training. Back in those days, Françoise Stahel covered 2,000 kilometres per season; today she manages just under 200. But isn't that exceptional for an 80-year-old! «Do you really think so?», she responds boldly. «I have been active my entire life. But I can feel my age, especially in the morning when I wake up a little stiff». This does not hold back the lively lady from pursuing an extremely active lifestyle.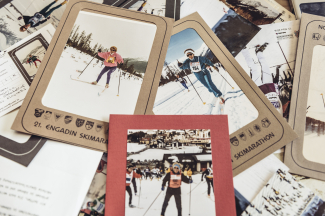 Her dog Bonita demands a fitness programme three times a day. She's from a rescue home, and her age is unknown, but she must be around nine. It comes as no surprise that Bonita is really fit too, despite her advanced age: just like her owner. Alongside spending several hours walking her dog, yoga and breathing exercises are important permanent fixtures in the life of the 80-year-old.
Twice a week she moves through her sequence from the Sun Salutation to Kapalabhati, especially with her annual aim in mind: the Engadine Ski Marathon.
I get an unbelievable high after every marathon.
Françoise Stahel
... enthuses the grandmother of four, whose daughters and granddaughter have since also joined her in doing the marathon. Three generations – united by one single passion. This will also be the case for her big anniversary on 11 March 2018 when she embarks on her 50th Engadine Ski Marathon.
Dario Cologna is thoroughly Impressed
Françoise Stahel is the role model of the three-time Olympic winner and defending champion of the Engadine Ski Marathon.
Facts – Engadine Ski Marathon
Today there are fifteen times as many participants in the «Engadiner» as when it was first held. This has resulted in a rise in the work required on the part of the organisers, as borne out by the impressive figures.
42 kilometres long
1,500 volunteers
13,000 participants
334,900 portions of food
> 2,000,000 heart beats per minute