The Most Famous Swiss Girl.
Heidi from the Swiss Alps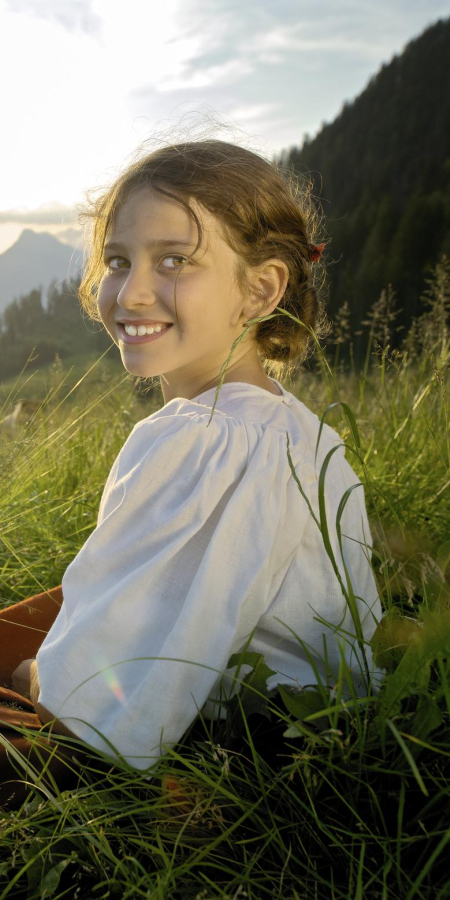 Johanna Spyri's worldwide bestseller «Heidi» has lost nothing of its magic to this day. Heidi symbolizes the values of home, truth and good deeds, and she has been doing this for 120 years. Heidi belongs to Graubünden like the ibex.
Do you know the story of Heidi? Here's a quick recap: Heidi is sent to live in the mountains with her grand farther who is known as bitter old Alp-Uncle, here she befriends a clumsy goatherd, named Peter. Later Heidi's strong-willed aunt comes to visit taking Heidi with her back to Frankfurt where she is hired as a ladies companion to paralysed Klara, the two girls form a close friendship. Eventually homesickness makes Heidi ill, and she is sent back to the mountains. Later Klara spends a summer with Heidi in the mountains and slowly gets better and learns to walk again. Klara's family are all delighted and promise to look after Heidi when her grandfather is no longer able to.  
How much of the story is autobiographical and what was going on in Johanna Spyri's mind is hard to say, as the writer burnt all her diaries and many letters shortly before her death. It's clear, though, that Spyri often took an interest in the fate of young women and of children. Her two children's books Heidi's Years of Learning and Travel and Heidi Makes Use of What She Has Learned, from the years 1880 and 1881, are among the most famous children's books in the world.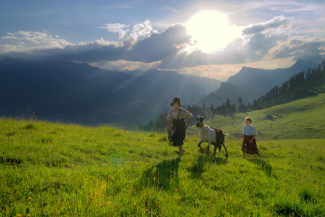 1. The book «Heidi's Years of Learning and Travel» appeared in 1880.
2. The book «Heidi Makes Use of What She Has Learned» appeared in 1881.
Translated into 50 languages
50 million copies printed
8 animated cartoons (a number of Japanese ones, among others)
12 Heidi films (most recent one in 2015)
8 comics
4 musicals
Excursion Tips in Maienfeld
In Johanna Spyri's Heidi house, visitors can return to the time of the origin of this world-renowned children's story. Along with many animal adventures, Heididorf features a village shop with souvenirs, a post office with special Heididorf stamps, and the chance to see the original Heidi house. It's definitely worth a visit.
Further Information