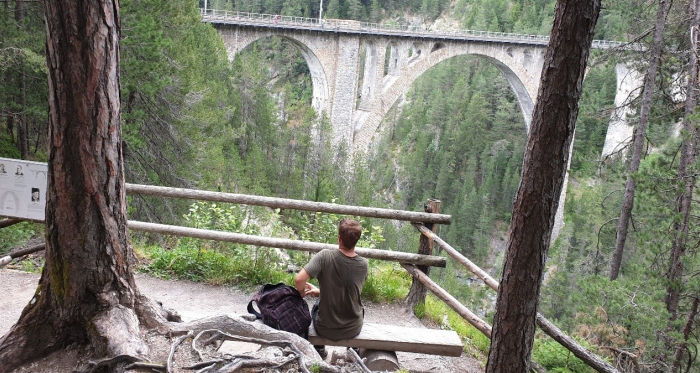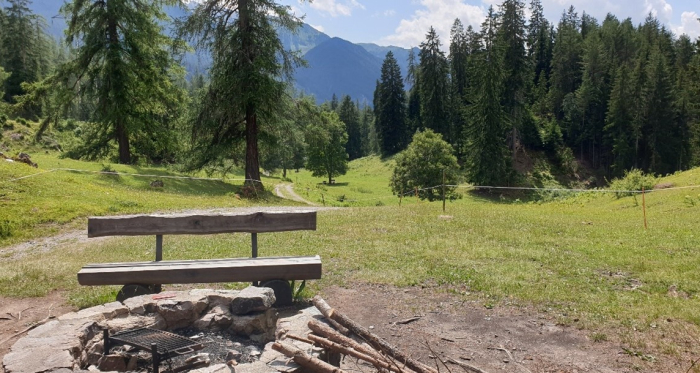 Show all 6 images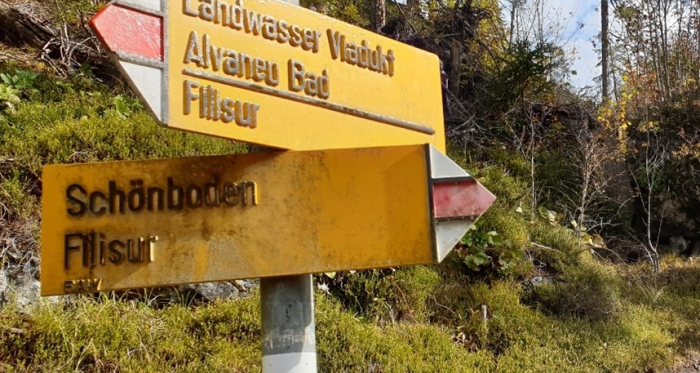 This hike is considered a classic and a "Bahntastischer" tip for everyone. On this hike, you will get to know the world-famous Landwasser Viaduct as well as the Wiesner Viaduct, which is also accessible. For good measure, there is also the Cavja and Schmittner Viaduct.
---
Destination
Station Filisur
Coordinates
46.675063, 9.682054
Description
The circular hike starts at Filisur railway station and leads through meadows, forests and over the 89-metre-high viaduct to Wiesen railway station. Return along the valley floor and between the imposing pillars of the Landwasser Viaduct to the starting point.
Directions
From Filisur railway station (hourly connecting trains from Chur, Davos, Engadin), the "Bahnhofstrasse" first leads approx. 300 m slightly downhill to the crossroads and then right to the railway subway. Then follow this paved road along the railway line to Davos until you reach "Schönboden" (section approx. 45 min. 3km). Ideal location for the first break with magnificent views of the village of Schmitten, the Albula valley and the Landwasser valley.
From "Schönboden", an easy forest hiking trail leads past the Caviaviaduct and along the steep flanks of Piz Muchetta to the viewing platform of the Wiesner Viaduct (section: approx. 45 min. 3km). At 89.5 m, it is the highest viaduct on the 384 km long Rhaetian Railway network. Shortly afterwards, you will cross the viaduct's footbridge and the barrier to Wiesen station. At the barrier, it is worth taking a look into the depths of the train gorge at the road bridge to Jenisberg. When you arrive at Wiesen station, the exhibition in the waiting room and the "Zügabeizli" are recommended.
Continue back over the level crossing and then left downhill towards the viaduct. But this time not over, but under the viaduct. With further spectacular views into the gorge, you now hike down on a slightly exposed narrow path via "Leidboda" to the first crossing of the Landwasser. (Section: approx. 30 min. 3 km, descent 240 m). After that the terrain becomes very easy again until the highlight of the hike, the mighty pillars of the Landwasser Viaduct. The cosy rest area at the viaduct with snack/toilet is the ideal place to wait for the train crossing. Impressive how the train swings in a 142-metre arc over the viaduct at a height of 65 metres (section: approx. 20 min. 1.5 km).
Finally, we walk along the "Landwasser" flowing from Davos on the left and with the Schmittnertobel viaduct on the right until we reach the junction at the cantonal road. From there we take the somewhat steeper path directly back up to the Albula line. After the railway subway, turn right back to the starting point (section: approx. 45 min. 2km) or if you still like, turn left to the viewing platform (approx. 5 min. each way).