Emerald Trail St. Moritz - Sils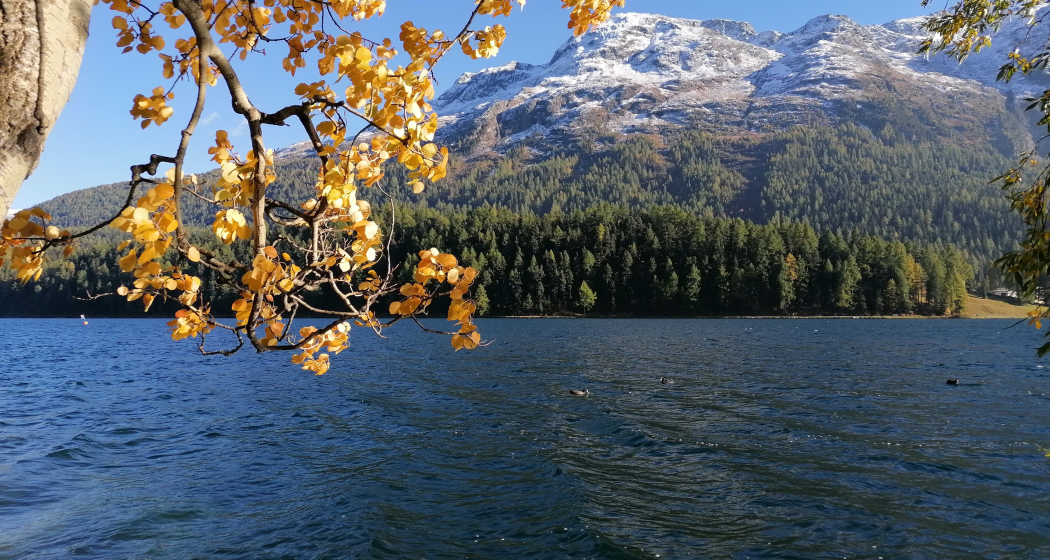 Show all 9 images
Upper Engadin lake trail through a moor landscape of national importance. Running towards the water along the king of the Engadin (Piz da la Margna).
Start
St. Moritz, railway station
Coordinates
46.49796, 9.84555
Description
The first stage of the Emerald Trail (Smaragdweg) starts at St. Moritz railway station. From here, you follow the lakeside promenade for about fifteen minutes until the path branches off up to the Landhotel Meierei. By following the asphalt road you will reach Lake Staz (Lej da Staz). The route now continues along the other side of the lake in the direction of St. Moritz Bad, alongside information panels bearing a wealth of interesting information about the marshland. The WWF has proposed that this area be designated a St. Moritz - Sils «Smaragdgebiet» (Emerald site), recognising it as a natural landscape worthy of protection. Walk for another 30 minutes through a very pretty conifer forest with bilberries in the undergrowth until you reach a clearing on the edge of an upland moor. Bear left at the next path intersection, and you will reach the peat bogs. In earlier times, the peat was cut and taken down to St. Moritz for the moor baths at the spa. The trail leads straight ahead through the forest, past the playground, to a church in the forest, the «Eglise au bois». Continue straight on, passing behind the Kempinski Grand Hotel des Bains, until you reach an expanse of meadow, then walk past the Olympic ski jump to the Lej Marsch. From there, it is a 10-minute walk up to the Lej Nair, where there are two more information panels near the closest lake shore. The path continues up to the Lej Zuppò and along the Palüd Lungia moor. Now descend to Surlej, where you are treated to a breathtaking view across Lake Silvaplana and Lake Sils through the Swiss stone pines and larches. On the trail to Silvaplana, at Crap da Sass castle, leave the road and head towards Sils. The path then runs along Lake Silvaplana to Furtschellas and on to Sils, a leg that takes about an hour. 
More information
Engadin St. Moritz Tourismus AG
Via Maistra 1
CH-7500 St. Moritz
Phone: +41 81 830 00 01
E-mail:
allegra@engadin.ch
Internet:
www.engadin.ch
Geheimtipp
There are numerous Barbecue areas along the way and you can enjoy a refreshing dip in the mountain lakes, so be sure not to forget your sausages and bathing costume!
Directions
St. Moritz - Lej da Staz - St. Moritz Bad - Lej Marsch - Lej Nair - Lej Zuppò - Surlej - Lej da Silvaplauna - Resgia - Sils Maria
Directions
Anreise Information
St. Moritz