Menu for Cyclists.
10 Tours for Gravel Bikers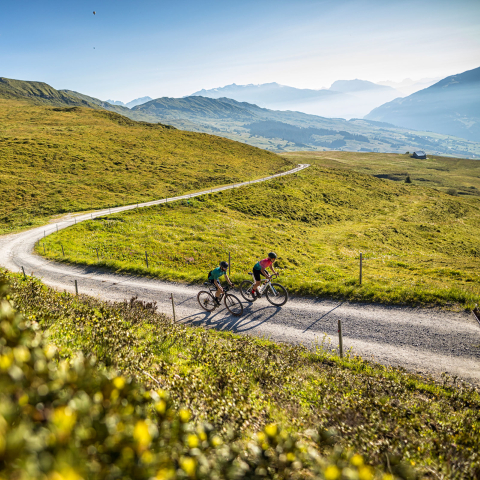 By using the best ingredients from Graubünden – gravel roads, mountain trails, panoramic views and fresh mountain air – we have created the «Menu for Cyclists». The menu features 10 tours in Graubünden for gravel bikers – from starters and mains to weekly specials.
As a starter, we serve you a wild or a very leisurely tour - both really nice to roll in.
Rich & Hearty.
Main Course
Whether a mountain lake, a monastery or a panorama to kneel down on: Our main courses are sure to fill you up.
Enjoyable & Relaxing.
Dessert.
Sweets are always good - even if your legs are already very sour. Isn't it?
Weekly Special.
Multi-Day Tour
For those looking for an unforgettable gravel bike adventure, the two multi-day tours along the Rhine are perfect.
Still Hungry?
More Gravelbike Tours
Is your hunger for gravel not yet satisfied? No problem: the 150 valleys of Graubünden are littered with the finest gravel roads, which are looking forward to being ridden.