Menu for Cyclists.
5 Tours for Road Cyclists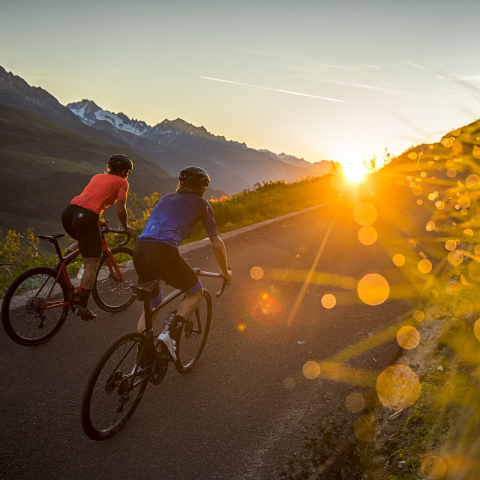 By using the best ingredients from Graubünden – mountain passes, elevation gains, panoramic views and fresh mountain air – we have created the «Menu for Cyclists». The menu features 5 tours in Graubünden for road cyclists – from starters and mains to weekly specials.
Two road bike tours are on our menu as starters. Freshly prepared for you and perfect for rolling in.
Rich & Hearty.
Main Course
Appetite for burning legs? Then treat yourself to our tour around the Swiss National Parc. To accompany you, we serve fresh mountain spring water.
Enjoyable & Relaxing.
Dessert
Sweets are always good – even if your legs are already very sour. Isn't it?
Weekly Special.
Multi-Day Tour
The classic on every menu. In Graubünden, this is the multi-day cycling tour along the Rhine.
Still Hungry?
More Road Bike Tours
From the route of the Engadin Cycling Marathon to the hairpin bends up to Obersays and a tour along the impressive Rhine Gorge: Here you will find even more fodder for your legs.