Road Trips for Mountain Bikers.
Multi-day Bike Tours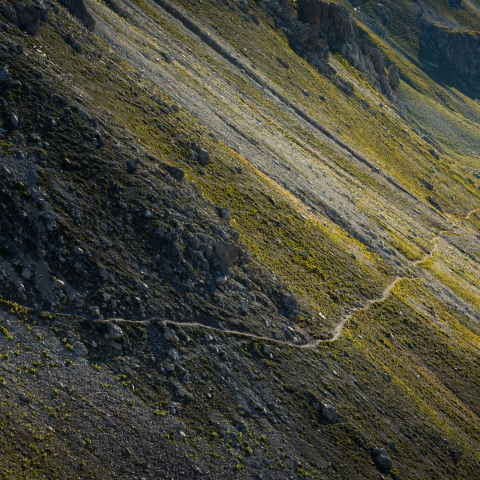 Multi-day bike tours consist of being on the road, various impressions, encounters, experiences. Getting yourself across the mountains with your own strength. They are and shall remain: Road trips on a small, a cinema for the mind on a large scale. Because – Graubünden is way too nice to only experience this biking region during a single day.
1 Alpine Bike Graubünden: Scuol–Disentis
Why always travel north to south, if there are plenty of trail highlights being offered east to west as well? The route «1 Alpine Bike» in Graubünden takes you from Scuol all the way to Sedrun. 316 Kilometres and 9600 meters in height give away two things: This bike tour will certainly work out your legs. But the view is unbelievably beautiful, with its mountain peaks, which are being «climbed» in 9 stages. And in addition to the panoramic mountains, you get to experience the tinkling of cowbells in your ears and the smell of wildflowers or hay hit your nose. A bike tour for all senses, if you will.
90 Graubünden Bike
14,169 metres in height, 375 kilometres, 6 passes 2000 metres above sea level, 11 days of pedalling: If that's not a statement for conditioned and tech savvy mountain bikers. The signposted route is littered with highlights. A soft meadow trails on the way to the Durannapass is followed by a rough climb to the Strelapass and the transition to Keschhütte on 2,632 metres above sea level – the roof of this multi-day bike tour. By the way, if you don't have enough time or strength in your legs, you can cycle a section of the total route – not any less exciting.
Southern Escape Graubünden: For a biking weekend
Time for an escape from reality? Between the location – the mountain village Chur – and the destination of this Südflucht, you can discover the rural Mittelbünden, the alpine Engadin and the almost Mediterranean southern valleys of Bergell and Puschlav. Thanks to the luggage transport you can enjoy the trails even more. And if you lose your stamina, you can switch to the Raetian Railway or the Postauto and catch up on some metres in height comfortably.
Uina – Bernina bike tour
The former landscape of the national park region is the backdrop of one of the most enticing mountain bike tours in Graubünden and Switzerland: the Uina Bernina bike tour. The highlights: the rocky gorges of Val d´Uina, the seemingly never-ending Bernina express trail and many typical Engadine villages as a backdrop. The Uina Bernina bike can be experienced individually in stages or booked as a complete four-day tour with luggage transport.
Davos Klosters E-Bike mountain lodge tour
This long and demanding e-bike tour leads through the entire destination Davos Klosters for three days and offers endless landscapes, panoramas and unforgettable hut experiences - according to the motto: Expand your Limits!