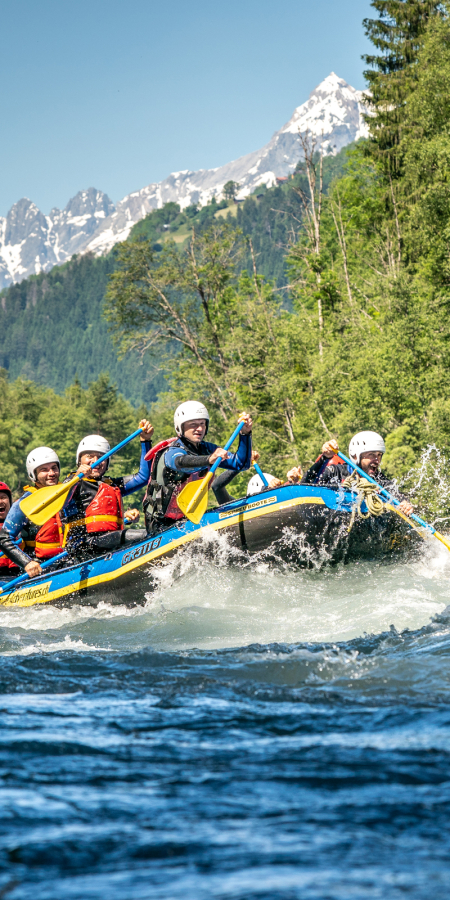 River rafting, this actually means raft driving. However, the spectacular journey on the white water, nowadays, is not completed on tree trunks, but rather with stable multi-chamber inflatable boats.  
For example, on the Anterior Rhine, where the «Swiss Grand Canyon» can be crossed, under the expert supervision of our raft guide. The Inn also has unparalleled gorges, cutting into the mountain, so that a tour through the Engadine High Valley remains unforgettable.
Surselva Region.
River Rafting on the Rhine
Those who have travelled once, with the Rhaetian Railway, from Ilanz to Reichenau, will hardly forget the canyon-like Rhine gorge, called by the locals Ruinaulta, with the bizarre rockslide landscape. 
The approximately 20 km long route, between Ilanz and Reichenau, can also be experienced, from May to October, with the help of an inflatable boat. The river rafting on the Anterior Rhine is one of the most terrific experiences in the offer of Grisons adventure organizations.
In Ilanz or Versam, all participants are introduced to the white water, with comprehensive safety instructions and information regarding raft technology.
After the even flow at the entry to Ruinaulta, the river gradually increases its level of difficulty, until the «Black Hole», the famous key section, announces itself through dramatic roars. After a few wonderfully refreshing hours, the participants reach the landing site in Reichenau.
Providers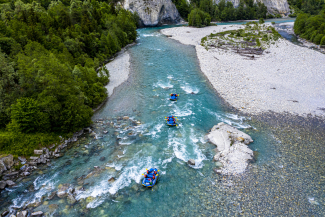 Engadine Region.
River Rafting on the Inn
The Inn – in Rhaeto-Romanic «En» – springs up at the Piz Lunghin, north of the Maloja Pass, at 2.484 meters above sea level and initially flows through the Upper Engadine Lake, until it reaches the Lower Engadine, through steep descents. 
The unparalleled gorges, the typical Engadine houses and the extraordinary mountain world in the national park region promise eventful rafting tours. Experienced and competent raft guides from Engadine offer half and full-day tours.
Providers
Prättigau Region.
River Rafting on the Landquart between Küblis and Grüsch
The Landquart arises at the Silvrettamassiv as a union of Vereinabach and Verstanclabach, flows through the Prättigau and flows into the Alpenrhein at the place named after him.
The Landqart offers moderately blocked and partly massive white water, lots of action and fun guaranteed. On the Landquart, one highlight after the other awaits you from top to bottom: rapids with such imaginative names as Furnapower, Bikemasterschwall, KO curve, Fuchsenwinkel, Schlangenboden or Happysurvivor make you squeal with excitement.
Since its renaturalisation, the Landquart has become one of the most attractive whitewater rivers in Switzerland.
Provider
Up to eight participants per boat can enjoy the wet and wonderful adventures on the wild rivers. The pros of the Grisons Rafting Provider organize everything, from the food to the equipment, so that the river pirates do not have anything to bring. Except for swimming abilities, bathing things and desire for an amazing water experience.