Kunstgalerie Valposchiavo
Atelier I: Runchett (Station 4 Rundgang Hildesheimer)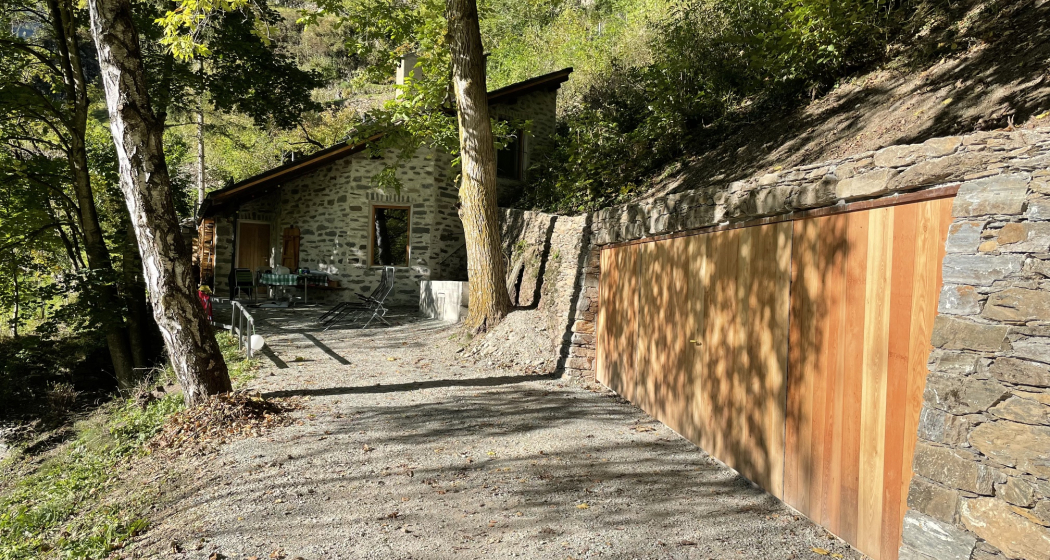 "Runchett" is the dialect expression for the terraced gardens on the steep eastern slope above the Borgo of Poschiavo, which are held by dry stone walls and which were used for fruit and vegetable cultivation until the 20th century. Wolfgang Hildesheimer had his first studio built in one of these runchets.
Description
"Finally back in the Runchett. Splendid. Next to the well lay a huge piece of eaten out tree bark. One of the brothers Schuhmacher must have put it there. A work of art. It would certainly have deserved a grand Biennale prize if it were even conceivable that this labyrinth could be made by human hands. The abstract - especially plastic - art seems worthless in view of the things that can be found in nature, but also on the house walls, on waste heaps, etc. On the other hand, you have to admit to her that it was she who sharpened her eye for this coincidence." (1)
The following text tells of his life in Poschiavo in the mid-60s:
"Visit of Wim van Leer and Lea. Pleasant lunch with them at Runchett. Unfortunately, he later insisted on reading me from his new piece...
While he is here, Vaninetti and Padre Camillo, Silvia [i.e. Hildesheimer's wife] receives and entertains her in my study. Welcome opportunity to shorten the reading and then we go over where the situation becomes difficult. Wim speaks Dutch and English, Lea English, Hebrew and Romanian, Camillo French and Italian, Vaninetti only Italian." (2)
Sources:
(1) Gesammelte Werke VII, Berichte, Notate, S. 666f.
(2) Gesammelte Werke VII, Berichte, Notate, S. 666f.
Responsible for this content Valposchiavo Turismo.
This content has been translated automatically.

This website uses technology and content from the Outdooractive platform.