On the 1st of March every year the traditional folk custom of Chalandamarz is celebrated, schoolchildren dressed in brightly coloured costumes parade. The traditional custom symbolises that the long-awaited spring will soon come and melt the last icicle.
«The big kids are always the bosses», is probably what these little ones are thinking, all bundled up in their warm woollen caps. Nevertheless, most of them are gazing in awe and wonder at the conductor, who is setting the tone for the singing in the village square of Scuol. He is teaching the smaller newcomers from the «Scolina» (the kindergarten) the traditional songs that will be sung on Chalandamarz – and which these boys, will one day sing themselves, at the traditional festival.
When the boys roam through the villages, joyfully ringing their bells, every household gives a tidy sum for the school trip fund. If the boys are lucky, they might get to sit down in Miss Barbla's parlour and eat their fill of «chastognas cun latmilch» – chestnuts with whipped cream. You can bet that after a sweet treat, the sounds of the heavy bells will ring out much more loudly through the streets!
Chalandamarz is largely a festival for the young men. But the girls have their part to play too, the girls can be found folding colourful paper flowers on the evening before the event, the flowers are used to decorate the bells. Besides the sounds of bells, Chalandamarz is filled with the noise of whips cracking. The adolescents who swing the whips are called «Shepherds». Steivan here shows off his skills, in the hope to impress Ladina, the girl he likes.
Over the right shoulder of the lone bell ringer hangs the highly decorated belt of a large cowbell, a «Plumpa». This type of bovine jewellery can weigh up to six kilograms, meaning it's easy for the bell ringer to get tired after a day of swinging the Plumpa. In this instance the bell ringer is always welcomed to take a short break and watch the world go by. Life in Graubünden is all about taking it easy and soaking in the atmosphere.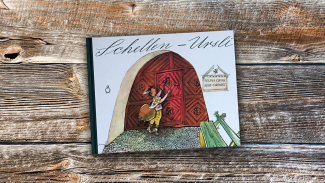 The story of Schellen Ursli is about Uorsin – Romansh for Ursli. Ursli is left with the smallest bell to wear at Chalandamarz, the other village youths mock and tease him for this. But Ursli remembers the big cowbell that hangs in father's mountain hut. He makes his way up to the mountain hut on his own, following along a precarious path laden in thick snow. Everyone starts to worry for little Ursli as he is gone all night. But in the morning Ursli turns up, the bell-procession starts, and who's the one leading it? Hooray! It's little Ursli, ding dong ding dong, and he's wearing the biggest bell of all!