Children's Book.
Schellen-Ursli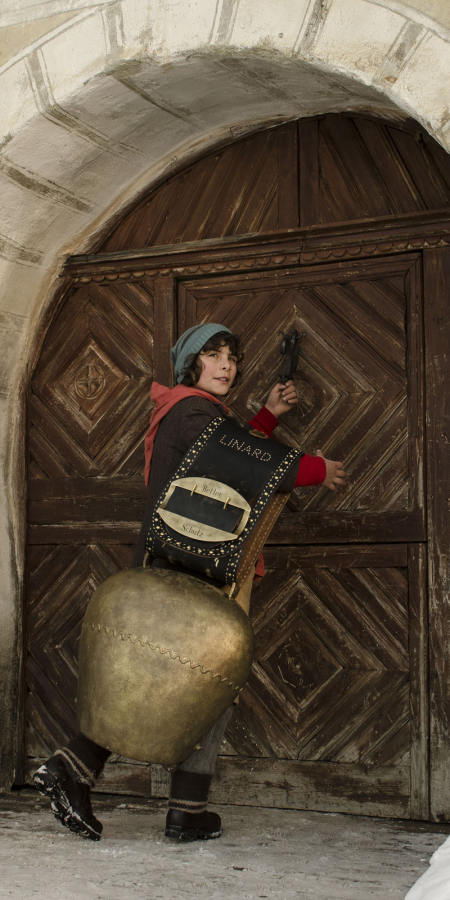 Schellen-Ursli (A Bell for Ursli) is the most famous Swiss children's book after Heidi. Written by Selina Chönz, the children's book was first published in 1945 and even today is considered an indispensable addition to many Swiss children's nurseries. 
The Story
«High up in the mountains, far from here, there lives a little boy just like you ...», begins the story of Schellen-Ursli. Schellen-Ursli, or Uorsin in the original Romansh, is a children's story written by author Selina Chönz and illustrated by painter Alois Carigiet. It is one of the best known picture books in Switzerland.
First appearance as a children's book in 1945 
Translated into 14 languages
Over 1 million copies sold
Next to Heidi, the most famous and successful Swiss picture book
Aside from adorning placemats, fondue caquelons, etc., Schellen-Ursli also serves as the brand for a line of organic Alpine products
Official filmign was released in October 2015
Guarda: Schellen-Ursli Village
Visit Guarda, home of the famous Schellen-Ursli and Chalandamarz and let the atmosphere of this village enchant you, with its quaint customs steeped in tradition. The town centre is characterised by old Engadine houses with their typical murals and sgraffiti. The community was awarded the Wakker Prize, with the rating «of national significance», for its exemplary preservation of the townscape.
The Custom: Chalandamarz
In the Upper and Lower Engadine, in Val Müstair, Val Bregaglia («Calendimarzo»), Val Poschiavo («Pupocc da marz») and Oberhalbstein, the villagers still keep the spring custom of Chalandamarz, which probably dates back to ancient times. On 1 March, the brightly costumed schoolchildren greet this much-loved season with the ringing of bells and the crack of the whip. This symbolic chasing away of winter's demons first originated in the Upper Engadine.