The Cycling Experience.
Gravel Bike and Road Cycling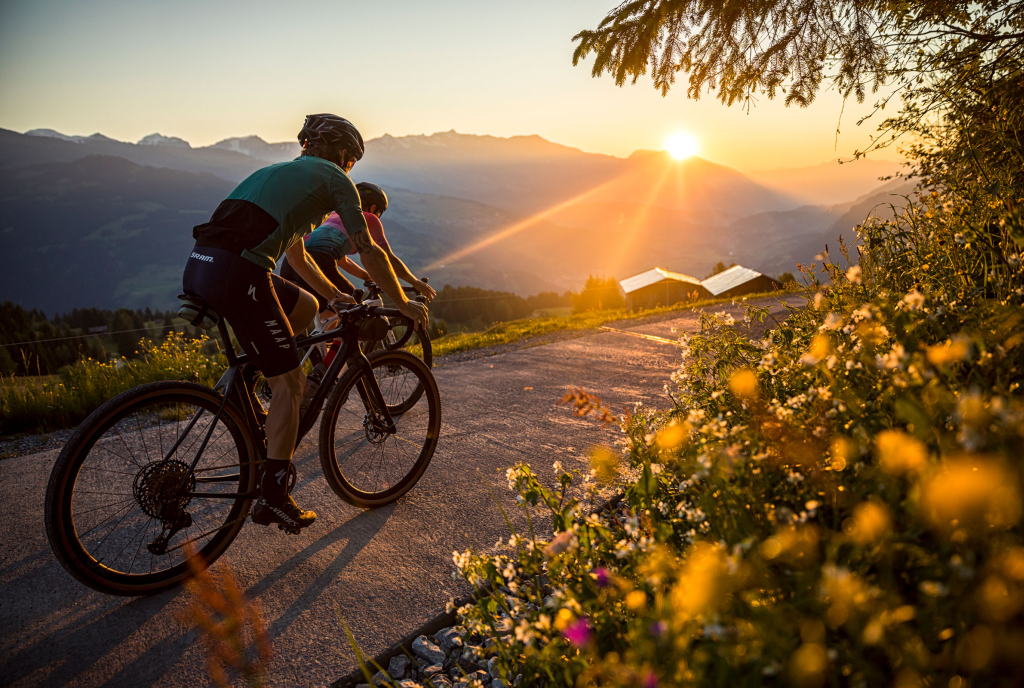 Not only is Graubünden the home of trails for mountain bikers, it also offers an attractive road and path network for racing cyclists and gravel bikers. It's all about freedom, experience, adventure and spontaneity. Discover our three route suggestions:
Gravel Bike.
Route Vorderrhein
You'll visit the origin of the most famous river in Europe by bike. On gravel roads and forest trails, you'll discover the Surselva with the imposing Rheinschlucht (Rhine gorge), picturesque villages and lush green meadows. You'll stop at turquoise lakes, dizzying observation decks and thunderous waterfalls. Steep ascents are rewarded with fast descents. Experience all the highlights along the route from the historic Alpine town of Chur to the mythical Lake Toma at the Oberalp Pass.
Gravel Bike.
Route Hinterrhein
Graubünden has never experienced such diversity. Your journey starts in Chur, the oldest city in Switzerland where you'll find the source of the Rhine at the foot of the San Bernardino Pass. On your way, you'll experience the exciting history of Graubünden in fast motion: The legendary Viamala, a thunderous, deep gorge full of dramas and legends; secret gold bunkers in the mountain; the Pratval castle, where the freedom hero Jörg Jenatsch murdered his adversary; and the ceiling paintings in the chapel of St. Martin, the "Sixtina of the Alps".
Road Cycling.
Route Source Region Rhine
Two alpine passes, deep gorges, three languages - twice at the source of the Rhine. Join us on a breathtaking journey of discovery through the most beautiful valleys of Graubünden. Starting at the Alpine town of Chur, the route will take you through the castle and gourmet paradise of Domleschg and the eerily beautiful Viamala- Schlucht (gorge) onto the famous San Bernardino Pass. After a fast-paced ride, you'll reach the Misox southern valley, tackle the ascent to the Lukmanier Pass and be rewarded with a great descent to Disentis. Through the incomparable natural heritage Rheinschlucht (Rhine gorge) the tour leads you back to the starting point.
From Hotel to Hotel.
Luggage Transfer
Don't worry about carrying your luggage on this trip multi-day trip. Book the luggage transfer from hotel to hotel - convenient and easy.