Menu for Cyclists.
5 Tours for Racing Bikers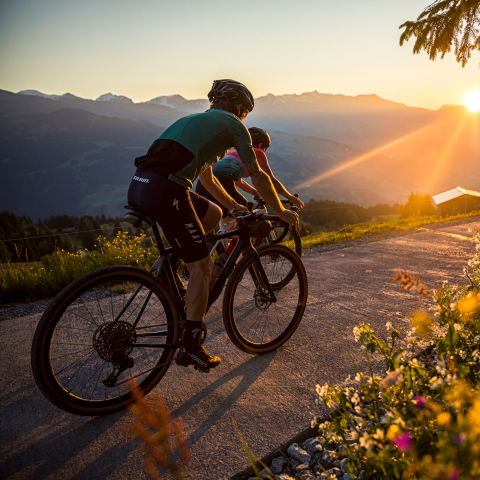 By using the best ingredients from Graubünden – mountain passes, elevation gains, panoramic views and fresh mountain air – we have created the «Menu for Cyclists». The menu features 5 tours in Graubünden for racing bikers – from starters and mains to weekly specials.
Level warm-up by the turquoise Vorderrhein, then a constant climb and magnificent tight bends that have you standing up on the pedals on the slope. Grandiose view on the hilly road through the villages of the Obersaxen high plateau, finally a dizzying descent to Ilanz.
53 km, 954 hm, 2:40 h
The Oberalp Pass: a Graubünden classic like Capuns and Salsiz. The hairpins before the top of the pass are made for racing bike dreams, the climb to Lai da Curnera is a secret tip. Concentration is required on the rapid descent to Disentis.
51 km, 1208 hm, 3:00 h
Main Course.
Rich & Hearty
Giro Parc Naziunal Svizzer
More road cycling? Impossible! Steep slopes in the Swiss National Park, intoxication with speed in aero position, espresso in Livigno, headwind in the Forcola di Livigno, glacier highlight on the Bernina Pass and motivation training along the Inn.
98,7 km, 1565 hm, 6:00 h
Dessert.
Enjoyable & Relaxing
An absolute secret tip on the eastern side of the striking Piz Beverin: Racing bike lover, what more could you desire? The climb to the mountain village of Lohn is rhythmic and fun. The panorama road has some proper bends after Wergenstein. The descent is on a narrow agricultural road through aromatic mountain meadows.
22 km, 727 hm, 1:30 h
Weekly Special.
Multi-Day Tour
270 kilometres, two magnificent alpine passes, deep gorges, spectacular landscapes and a ride through all three language regions of Graubünden await you.
5 stages, 304 km, 4827 hm