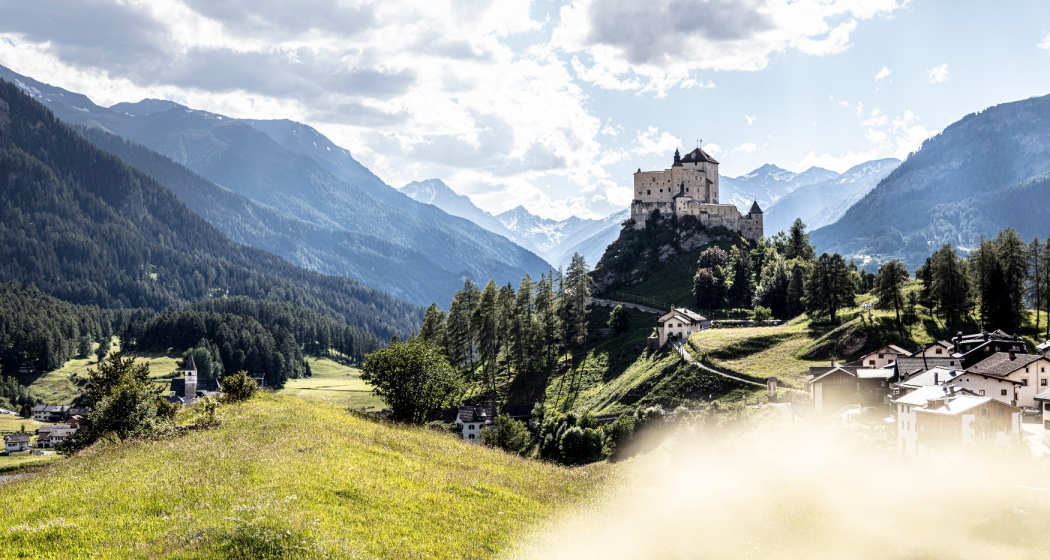 Show all 3 images
Varied loop along the Inn, through Engadine villages with sgraffitover decorated houses and on to the small mountain lake Lai Nair.
Coordinates
46.79264, 10.29764
Description
The tour is characterized by a varied landscape and different running surfaces. First it goes along the rushing Inn on the "parrot path" with gorge character, up to the original hamlets of Tarasp with a view of the striking castle and finally to the mountain lake Lai Nair, which is located on a plateau above Tarasp. Finally, a technical trail through the forest down to the former spa town of Vulpera awaits you. 
Geheimtipp
The small mountain lake Lai Nair invites you to cool off. Don't forget your swimwear. 
In Vulpera there is a small, picturesque spa park with pavilions.
Directions
We start in Gurlaina and follow the parrot path towards Nairs on the right bank of the Inn. Before the Büvetta we cross the Inn and walk eastwards. At the bridge in Nairs we cross the Inn again and turn right at the building of the Carola spring and follow the hiking trail first along the Inn afterwards uphill over a path with some curves towards Florins. Crossing the hamlet of Florins we can admire the panoramic view and the Romanesque building culture. We continue west to a striking right turn, here we turn left and follow the stream uphill to Fontana. In Fontana we take the steep road towards Lai Nair. Soon we made it and we reached the highest point at Lai Nair. We take the path north of the lake and turn left to the parking lot. We cross the road and take the trail towards Vulpera which leads through a sparse forest. Shortly after the tennis court, we turn into the path coming from Gurlaina. Here you can already start the final spurt.
Directions
Public Transport
The tour can be started anywhere in Scuol, which is well served by the Rhaetian Railway or the Postbus.